Study from Chadwick Martin Bailey looks at the growing impact of smartphones and tablets on the media, entertainment, gaming and social networking industries.
Boston, MA August 18, 2011 - A recent study of over 1,400 U.S. consumers conducted by Boston-based custom research firm, Chadwick Martin Bailey found that smartphones and tablets are not only more popular than ever, they are replacing relatively new technology like portable gaming systems as well as devices that have long resisted substitution like TVs and laptops.
The increas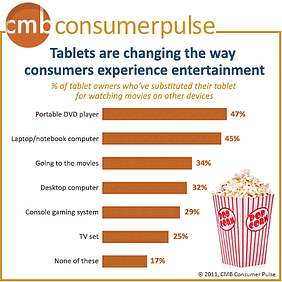 e in quality and capabilities of mobile devices has sparked major changes in consumer habits. For example: over half of smartphone and tablet users play games on their device and two-thirds of these people are using other devices less for gaming (particularly portable gaming systems). Additionally, nearly two-thirds of tablet owners have used these devices to watch feature-length movies. As tablets become more mainstream, the data indicate that stand-alone DVD players will go the way of the horse and buggy.
"The increasing ubiquity and capabilities of smartphones, tablets and the mobile networks that support them is having enormous implications for the entertainment and consumer electronics industries," says Chris Neal, Vice President of Chadwick Martin Bailey's Tech and Telecom Practice. "Content owners and advertisers of all stripes stand to benefit, while many specialty device manufacturers will need to course correct if they haven't already."
Not all consumer behavior changes are a zero-sum game, however. Overall consumption of entertainment, like watching videos on YouTube, social networking, and watching TV and feature length movies has increased as a result of increased smartphone and tablet ownership.
Everyday activities have also felt the effects of the mobile device revolution: 80% of mobile device owners have used their device for mapping and getting directions. Among these users, 89% say they're using other methods like stand-alone GPS devices less.
The study also looks at behavioral differences by gender, age, income, region, and device ownership. The research also takes a pulse on likely future trends: for instance, 26% of US adults claim they are considering buying a tablet in the coming year.
About This Research
This study was done as part of Chadwick Martin Bailey's self-funded CMB Consumer Pulse program. A report with additional findings from this study is available as a free download from Chadwick Martin Bailey. Data was collected from 1,461 adults (aged 18 and over) via a nationally representative online survey questionnaire within the United States by Chadwick Martin Bailey in May of 2011.

About Chadwick Martin Bailey
Chadwick Martin Bailey is a Boston-based custom market research firm who works with many of the most successful companies and best known brands in the world to help them acquire, maintain, and grow their customer base. Founded in 1984 by John Martin and Anne Bailey Berman, the company has corporate headquarters in Boston, Massachusetts, serving clients in more than 30 countries around the globe. Chadwick Martin Bailey focuses on using leading-edge research techniques to collect and translate the data into simple, business decision-focused deliverables. www.cmbinfo.com