L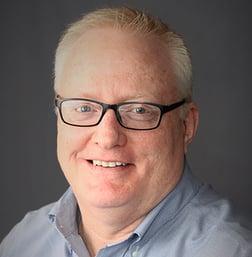 ast week, I had the opportunity to sit down with Ed Loessi, CMB's Director of Product Development and Innovation. We talked about his role defining and developing products and solutions, why agency innovation is so important, and how our innovation efforts can lead to delivering better solutions for our clients.
Historically, early innovation has been around physical products. Personally, even when I think about innovation, my first thoughts are about technology, cars, phones, etc. So why do agencies, like CMB, need to invest in innovation?
Ed: To your first point about the perception around innovation being associated with products, Austrian economist Joseph Schumpeter wrote that innovation is achieved when companies craft inventions that constructively change their business models. For many decades, this was a very physical-product driven idea. However, for a service-based or information-intensive business that provides insights, the "product" is the insight itself.
This understanding makes it easy to see why companies that provide insights must be as focused on innovation as their physical-product counterparts. In order to succeed and continue to perform at a high-level, companies must constantly construct and deconstruct their business models in order to provide the best possible services to clients.
Makes sense. So, how do we get clients to value an organization that's innovating services?
Ed: That's actually pretty easy. If you went to anyone on the street and asked them if they want to buy this five-year-old smartphone, how many would say yes? Probably none. It's the same with services and insights—nobody wants old insights or old ideas (unless they're still valuable). Clients want to have all of their providers working to be the best at supplying materials, finished products, and services. What you have to do as a service provider is show that you're constantly working to move the provision of your services forward—because that's what moves the client's business forward. This can be achieved by having POV's on things that will impact your clients in the future, actively testing solutions to things that will impact them very soon, and actively engaging in solving problems that are impacting them right now. By covering the entire innovation spectrum, clients will begin to recognize you as an innovative organization.
Could you give some examples of innovation within CMB?
Ed: Sure—
First, CMB has been in business for more than 30 years, so there are many examples of innovation that have spanned those decades. We've embraced new ideas and technologies, and we have helped our clients through the peaks and valleys of changing economics.
The big change, and the reason for my role, has been to step up our speed of innovation. By having a person who focuses on innovation within the organization and works across all of the practice and service delivery areas, I can help things happen quicker. We've also matched that with a concept of virtual teams, in which people from the practice areas, service delivery, sales, marketing, analytics, and project management come together to focus on rapidly developing or upgrading an approach.
More specifically, we're taking new ideas and existing approaches and applying agile methods (quick iterations, earlier customer feedback, and faster releases into the market) across all of the services that we provide. We're working to make sure that all of our practice areas and market research services are constantly moving forward in quality and value.
You also just started an innovation group within CMB, and I'm excited to be one of its members! What was your thought process in establishing the group?
Ed: The main point of our innovation group is to have a way of training and helping more people in the company understand innovation. The company has always been innovative (hence its success over the years). The goal of the innovation group is to have as many people involved in innovation as possible and to keep people thinking about innovation as much as possible.
The innovation group contains several sub-groups, some of which focus on the innovations our clients are working on. Other subgroups look at the big challenges in market research and ask, "how do we tackle this?" All in all, we want to discover innovative ideas both internally and externally, and we want to be really good at getting those innovations to market.
What would be your advice to other agencies trying to be more innovative?
Ed: Well, I don't want to give away all of the secrets. However, it's safe to say that you have to make a commitment to being innovative, and you have to do it quickly. Clients don't want to wait around for new approaches, especially in a world that is changing as fast as the world that we live in today. You've got to be able to function as agilely as possible, and you have to be able to engage with your customers on those innovative ideas early and often.
Lauren is a Senior Research Associate at CMB whose best innovative ideas form in the kitchen when she experiments with new recipes.
Ed is the Director of Product Development and Innovation at CMB. He thinks there is a game-changing product or idea within everyone, and it's his job to dig it out. You can share ideas with him @edloessi.