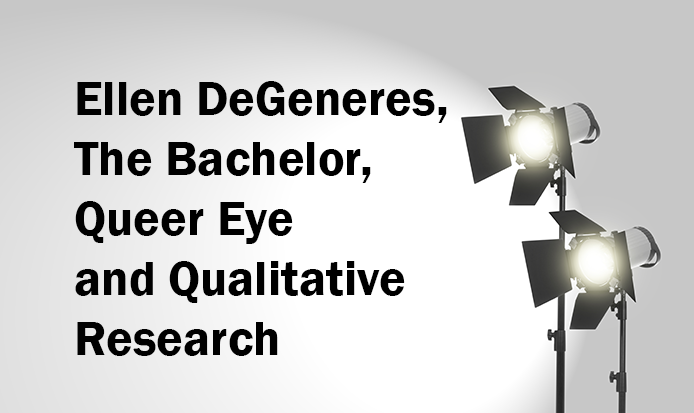 I watch a lot of television. From dramas to sitcoms to reality shows, I love it all.
And while I watch a range of programs, I've noticed parallels between what it takes to be an effective TV personality and a
qualitative research
moderator.
The art of establishing rapport
Ellen DeGeneres is the queen of establishing rapport. She greets each guest with her warm personality (usually dancing is involved) and alleviates any nerves/discomfort they may be feeling. Her inviting approach helps establish a mutual trust and creates a safe space for her guests.
As a qualitative moderator, it's also my job to establish rapport with my participants—to create an environment where people feel comfortable sharing.
One of the best ways to put participants at ease in a focus group is by extending an "emotional handshake" to them. Before diving into the session topic, participants are asked a few self-introductory questions (e.g., what's your name?) followed by a question unrelated to the discussion topic (e.g., what kind of pet do you have?). Once participants have answered some intro questions, the moderator will follow up with a question to complete the emotional handshake.
For example, if participant A says they have a dog, a good moderator might follow up with, "What kind of dog do you have?" By following up, the moderator has shown true interest in what the respondent has to say, thus creating an environment in which participants are more likely to share.
Handling difficult conversations (within time restraints)
Chris Harrison of The Bachelor franchise is another impressive television host. From The Bachelor and The Bachelorette to Bachelor Winter Games and Bachelor in Paradise, Harrison is no stranger to navigating emotional conversations between heartbroken and battered love-struck participants.
Harrison's moderating prowess really shines through during the live finale episodes at the end of each season. In the live finales, contestants are invited back to recap the season and settle (hopefully) any unresolved disputes between exes and enemies. It's a tense situation because contestants are often watching (for the first time) emotional footage from the season.
Harrison masterfully navigates tough conversations between contestants by knowing when to dig deeper and when to rein it in—all under the pressure of impending commercial breaks.
As moderators, sometimes we have to dive into sensitive topics with our participants within a certain time constraint. Based on project objectives, we need the judgement to know when to probe further to understand participants' thoughts/feelings, and when to move along. Like Harrison, we must approach these conversations with empathy to show participants they are truly being heard.
Consulting after the fact
While Karamo Brown of the Emmy-winning show, Queer Eye, is a talented moderator, he's also an incredible consultant. In the show, Karamo has an honest conversation with participants—listening to their needs and desires—then recommends actionable steps towards achieving their goals.
For example, in the first season, Brown helped a struggling comedian brand himself with new headshots and a formal website. In another episode, Brown supported a transgender man while he acquired a new driver's license with the proper gender listed. In each case, Brown listened to their struggle—for the comedian, it was lack of confidence, for the transgender man, it was misrepresentation of his identity—and built a roadmap to overcome these obstacles.
We too are consultants in market research. We go into a discussion with questions to understand the thoughts, feelings, opinions, and attitudes of our participants. We listen intently and extract meaningful responses, then use that information to make informed, actionable recommendations to clients.
I never thought I could connect my love of television to my work as a qualitative researcher. But the more people I see on TV effectively navigating dynamic (and sometimes tough) conversations, the more inspiration I draw as I continue to hone my own moderating skills.
Kelsey Segaloff is a Moderator who is currently binge watching Agents of S.H.I.E.L.D., Bachelor in Paradise, Castle Rock, and Magic for Humans simultaneously.