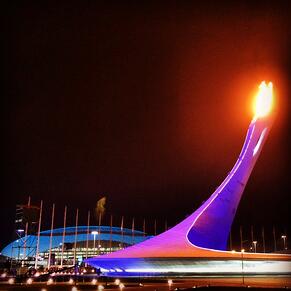 I recently traveled to Sochi, Russia for the Winter Olympics (check this off the bucket list!) and after all the media attention focused on Sochi leading up to the games, I was interested to see firsthand if the games were going to be considered a success for Russia or not.Russia went into their Olympic bid with the mindset that they would be showcasing, and essentially re-branding, their image to the world (and turning Sochi into a top tourist destination in the process). Re-branding an entire country is no small feat (and in the west many would argue that Russia faces a particularly difficult battle) and the Olympic stage is indisputably the easiest way to gain national exposure and leverage a positive image.
Pre-Olympics: Sochi got off to a bit of a rocky branding start in the media (with security and hotel/lodging concerns taking the spotlight away from the positive aspects of the games) and #SochiFail being the most prominent twitter tag in the weeks leading up to the event. Strolling through the Olympic Park a day before the Opening Ceremonies, many aspects were not yet set-up and ready to go (e.g., the souvenir store, sponsor houses, food stands). Nothing like last minute!
Olympic Moment: After the Olympic Ring debacle during the opening ceremonies, Sochi brought its A game. The international media had little to complain about (besides the sunny weather!), as events went off without a hitch and portrayed Russia in a positive light.
Post-Olympics: From purely a spectator's point of view, the games for Russia were a success. The venues were state-of-the-art, Sochi provided wonderful scenery, volunteers were friendly and focus was centered on what mattered: the athletes and bringing the world together for these two weeks. Russia also achieved their ultimate branding goal as a nation: coming out on top of the medal count. But in an illustration of the limits of Olympic spirit, Russia's current political actions may taint any positive goodwill they gained from Sochi.
In the wake of the Games, will Sochi become the ultimate tourist destination that Russia hoped for, or will it suffer like other Olympic cities have in the past? Speaking to other spectators who had been to multiple Olympics, many expressed these were the best Olympic Games yet…but only time will tell if that positive experience was felt throughout the world (or if it never made it outside the ring of fans and athletes in Sochi).
Jen is a Project Manager at CMB. She'll never forget her Olympic experience and is now preparing herself for PyeongChang 2018.