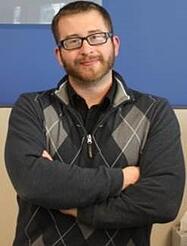 Our clients always comment on our "rock solid execution"— how we set and meet the highest standards in project management and execution from project lift-off to reporting. We owe a lot of that to our incredible project managers. Meet Jack Burtch, CMB project manager extraordinaire, who also happens to be the Director of Communications for the New England chapter of the MRA (NEMRA).
MM: Tell us a little about your role as Director of Communications for the New England MRA.
JB: As a Director of Communications, I develop, implement, and evaluate the communications across the organization's various audiences (members, businesses, sponsors) in collaboration with the board of directors. Our goal is to bring together the New England market research community in a conversational way whether it's through social media, our website, at our semi-annual conferences, or at one of our free breakfast club meetings that we hold periodically throughout different New England states.
MM: How does your work with the MRA help you understand client needs?
JB: From my experience and perspective, working with the MRA helps everything come full circle as you're able to take in the various specialties, methodologies, and roles that each company plays in the market research ecosphere. It's helped me form an understanding of not only the opportunities and concerns that end clients may have but also the struggles, triumphs, and ever-evolving landscape that partners and other firms are having that can benefit our clients and their needs.
MM: Tell us a little about more your work with the ARF.
JB: When it comes to the ARF, or Advertising Research Foundation, I'm involved primarily with the Young Pros team and helping put together events and networking opportunities such as the event we held at Communispace a year or two ago. Our focus is on the professional development of young people or recent graduates new to the research field. We engage them through the resources available to them as well as connect them to the broader research community.
MM: How do you feel joining a company that's a beta tester for Sawtooth and that has advanced analytics?
JB: Advanced analytics and the tools that facilitate it such as those from Sawtooth seem to have rocketed to the top of the agenda for most companies these days as it can provide a better avenue for forecasting and enhancing outcomes. Plus, it allows businesses to be more agile while they can continuously adjust business models derived from the data. When I joined CMB, it became clear that advanced analytics plays a pivotal role in the work we're doing for our clients, which I'm excited to be a part of.
MM: What other sources do you turn to for industry insights?
JB: I try to tap every resource I can when it comes to this industry given the ever-developing research trends, technologies, and landscapes within verticals that could have an impact on how, what, and who I work with. This could range from social media (Twitter, LinkedIn, reddit, Digg, blogs, etc.) to publications and journals (Quirks, HBR, Alert!, JAR, JMR, etc.) to networking events and conferences. Oh, and you can't forget about news sources like Quartz, Bloomberg, TechCrunch, IBT, and others which help provide a more macro view of what's taking place in a client's industry.
Jack is a senior project manager. A man of many talents, he was once a professional photographer. In addition to his work with NEMRA, he also coordinates the Eastern U.S. arm of the Emerald City Supporters, a supporters group for Major League Soccer's Seattle Sounders FC.
Headed to NEMRA's Spring into Action event on May 15 or the Front End of Innovation conference May 13th-15th? Let us know! We'll be there and we can't wait to talk insights with you!