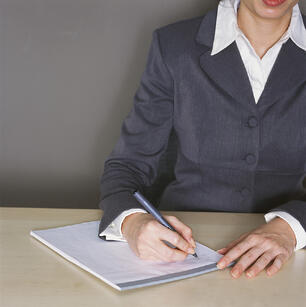 A few weeks ago, thirty of my colleagues and I attended a clear writing workshop. When I first got the calendar notification for this workshop, I thought, "Oh, God, not another one." As a recent college graduate and a current graduate student, I can't tell you how many writing workshops I've attended over the years. And each time, I find myself walking away thinking that my time could have been much better spent.However, this workshop was different.I actually learned something! And, even better, it relates to how we, as market researchers, can tell the story of our insights in the most effective way.
At this workshop, our instructor insisted we abandon fancy phrases and just say and write what we mean. Instead of focusing on the words, we should focus on the ideas. Our instructor even suggested we practice not looking at our screens. This allows us to focus on expressing our thoughts and ideas rather than on the words we use to articulate them. Sounds like a simple premise, right? Maybe in theory.
I'll admit that I'm one of those people who will sit and stare at a computer screen until the right word or phrase comes to mind. Instead of focusing on what I need to say, I find myself caught up in how I want to say it—which is exactly the problem our instructor wanted us to address. We all use unnecessary language from time-to-time to make our writing seem more intelligent or more "professional." However, that's when our writing runs the risk of being unclear.
Unclear language in market research can cause a lot of problems. For example, a convoluted report can lead to problems interpreting the data or results. Our writing impacts the validity of the work we do, and when that writing is compromised, we could have a lack of buy-in from stakeholders, waste research dollars, and so forth. We need to always make sure we're answering the right questions, which often boil down to:
Who wins here? And how do we make sure they know it?
Who loses here? And how do we help them win somewhere else?
We shouldn't be asking, "What do I want to say?" Instead, we should be asking, "What do I want this person to learn?" When you think about it, these are two totally separate concepts. I might want to tell you about how awesome Beyoncé and Jay-Z's concert was, but does that help you in any way? Probably not. Furthermore, we need to ask ourselves (1) whether it's worth the reader's time and effort and (2) what will the reader get out of it. This is where those "right" questions above come into play. Those are the questions we should be answering for our clients. Those are the questions that will allow us to demonstrate what we want them to learn. Those are the questions worth answering.
So, here are my answers to those questions as they relate to this blog post:
What do I want you to learn? Communicating clearly and effectively by keeping your reader in mind is critical. At CMB, we're constantly thinking not just about what we need to say but about what we want our clients to learn—information that will empower them to make meaningful decisions.
Was this worth your time? Did you get anything out of it? Let me know! What do you think makes an excellent report? What makes recommendations useful? Tell me in the comments!
Bonus answer:
Was that Beyoncé and Jay-Z concert really as awesome as you say? It truly, truly was.
Kirsten Clark is a Marketing Associate who's also pursuing a M.A. in Integrated Marketing Communications at Emerson College. As a lover of the English language, she's thrilled by all the possibilities present when writing. She also has a deep, unconditional love for Beyoncé.
Check out our new case study to see how we helped a top 25 global bank develop a new value proposition and evaluate perceptions of various service channels and transactions.