We've been gearing up all season for two conferences later this month, and the time has almost come. Will you be at the QRCA conference or TMRE? If so, you should check out our presentations!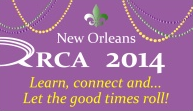 Anne Hooper, our Director of Qualitative Services, is headed down to the one and only New Orleans, Louisiana for the QRCA Conference! She'll be enjoying the warmer weather, experiencing Cajun food, and giving a presentation entitled Get More Business by Partnering with a Full Service MR Firm. Her presentation will explain how QRCs get on our radar and what is required within the vetting process when working with a full service firm such as Chadwick Martin Bailey. Attendees will also obtain insight into how CMB chooses our partners at the outset (RFP stage) and/or after a project has been won. This presentation will address the logistics of working together from multiple points of view (i.e., sales, project management, accounting)—focusing on what works (or doesn't work!) for CMB in this context. The session will conclude by addressing what a QRC can do to keep the relationship moving forward, thus increasing the chances of getting more work from full service firms on an ongoing basis. You can see her present on tomorrow—Wednesday, October 15 at 2:30PM.

Next week, we'll be heading down to sunny Florida for TMRE! We'll spend our time catching up with our wonderful clients, sharing insights, networking, and hopefully catching a glimpse of that bright Florida sun. If you'll be there, you should check out a presentation from our own SVP of the Financial Services Practice, Jim Garrity, and Aflac's Senior Market Research Manager, Kelly Bowie. Their presentation, entitled Quacking the Code of Customer Loyalty: An Aflac Case Study, will discuss why old benchmarks are no longer as meaningful for companies tracking customer satisfaction. In this presentation, you'll learn how Aflac has adapted its customer loyalty program by leveraging dynamic benchmarking and other storytelling components to ensure that it drives the change necessary to maintain a strong market position. You can catch them in the Brand Insights & Engagement track on Tuesday, October 21 at 11:30AM.
We can't wait to see you!
Want the latest scoop on webinars, conferences, and insights? Click the button below to subscribe to our monthly eZine!