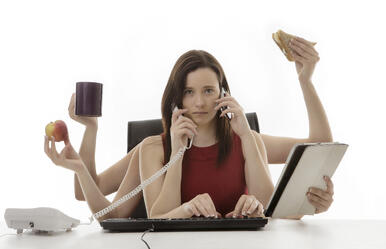 Our company's Internet was down for a few hours earlier this week. While the IT team scrambled to identify and fix the problem, the project staff's reaction to the news caused many of them (us!) to look like a deer caught in headlights: stunned. But because we, by nature, are problem solvers, the staff quickly sprang into action. The "work-arounds" were identified and shared, and people dispersed. Some, in the quest for free Wi-Fi, temporarily moved into Starbucks or the train station for a few hours. Others took the time to engage with colleagues in-person (!) to brainstorm, strategize, or simply catch up. It wasn't long before the IT team got the company back online, but the service interruption has caused me to reflect on our work and purpose.Years ago, in my M.B.A. capstone strategy course at Babson College, I competed in a strategy game with other teams in the class. The teams had to use the information available to make decisions and set the strategy for our pretend companies. We had to answer questions like: what markets should we conquer? What should the features and pricing structures be for our products? What investments should we make in research, advertising, and operations?
My team chose a simple strategy: world domination. We decided we could outmaneuver our competitors with a first-to-market strategy. We flew out of the gate, introduced our first generation product in multiple markets, and, over the course of several weeks. . . we failed in a dramatic fashion. The lesson I learned from the course is one I carry with me to this day: focus. The teams that performed best studied the market and adapted their products and pricing structures to reflect market needs. Only then did they proceed with a plan and a goal to execute their plan as well as they could.
I'm celebrating my 22nd anniversary at Chadwick Martin Bailey this week, and one of the things that I love about what we do is helping our clients make decisions—particularly decisions that are complex and have some level of risk associated with them. The information we provide enables clients to focus on high potential opportunities across a range of areas: market segments, operational improvements, new products, digital marketing, high-value customers, and more. We help our clients determine which alternatives have potential (for growth, for profit, for brand extension) and provide insight into how they can tackle those high potential alternatives. Resources—like time and money—are limited everywhere. Deciding what to do and what to ignore is essential for business success, team focus, execution, and sanity.
The Internet interruption this week forced me to focus on what I had to do without distractions. It also, strangely enough, empowered me to choose how to spend my day instead of feeling like my job is to constantly respond to communications. At this very moment, I can be reached instantly via four phones, three social networks, two email addresses, and one online chat system. . . that's ten communication channels. At this stage in my career, communication with clients, prospects, and team members is essential to my success, which is why I monitor and quickly respond to all ten communication channels. But this week's Internet interruption has caused me to challenge my use of these channels and to consider how I can be more effective and focused in a world of constant interruption.
Anyone want to guess what my 2015 New Year's Resolution will be?
Judy is VP of CMB's Travel and Entertainment practice and loves collaborating with her clients. She's the mom of two college students and the wife of an oyster farmer. Follow Judy on Twitter at @Judy_LC.
WEBINAR: The New Hotel Path to Purchase: The Mobile, Social, and Online Journey – Listen to Judy in action as she talks about this study we did as part of CMB's Consumer Pulse program. We asked 2,000 leisure travelers to share their journey from awareness to booking. This webinar will give you insight into the role of mobile, apps, customer reviews, and social media.