As a high end market research firm we spend a lot of time thinking and talking about the design and analysis of segmentation research projects. We have tried and true techniques and processes for building the most useful scheme for a given company and know exactly how to put them into practice. But from a client perspective, that is only the beginning. Without buy-in from executives up front and evangelization following the research, even the best segmentation solutions wind up unused.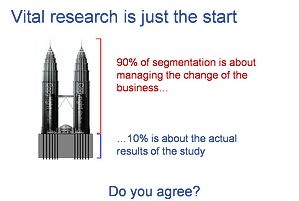 In our recent webinar, Andy Vranesic of GE Healthcare stated that only 10% of effort in getting segmentation used exists in getting to results, with the remaining 90% managing change across the business induced by the results. He continued on to say that segmentation output should cause the C-suite and senior managers to think differently about the business- and that should be reflected in their tactical actions.
Three tips to making segmentation useful:
1) Conduct up front workshops with key stakeholders to set expectations and make sure their goals are included in the design
2) Don't let the numbers unilaterally dictate the scheme you choose, a scheme is only useful if it fits the organizations ability to act
3) Be deliberate about post-project evangelization. Set up an internal strategy for each relevant group so that they understand the key takeaways and take appropriate action.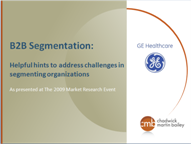 Watch our recent B2B Segmentation webinar with GE Healthcare
Jeff is a Senior Consultant and has of the most diverse professional lives in the business. He applies his experience in new home construction, cosmetics, insurance, corporate governance, and retail with his analytical skills to create dynamite client solutions.