NPR radio host Lian Hansen, gave an on-air call-out this weekend to a recent social media study conducted to gain insight and suggestions for the Weekend Edition show. I applaud NPR's preparation for the future media landscape where traditional methods of consumption (TV, radio, print) could be greatly marginalized in favor of digital distribution. I am also interested in NPR's ability to acquire and engage fans on Facebook (582k as of 1/21/10) and their 'management' of the sub-brand Weekend Edition (NPRs Weekend Edition has 4,500 followers). What can we learn from their social media study?
Well, over 7,000 listeners participated, providing reactions and suggestions for Weekend Edition. According to the broadcast: "You've alerted us to stories, suggested questions for guests and become a part of our program in ways that weren't possible just a year ago." In the results, NPR found evidence of the importance of engaging with their audience through various communication platforms, and suggested that the end result may be stronger audience relationships.
They recruited respondents from a variety of sources: the NPR Listens national online listener panel, on-air invitations during Weekend Edition on December 19th & 20th, Facebook postings from Weekend Edition, as well as tweets from Lian Hansen, Scott Simon and other Weekend Edition staff. While market research professionals might frown upon the projectability of results from these self-selected respondents, since the purpose of the study was to support their social media strategy, this open invitation approach provided them a cost-effective and fast sample list.
NPR shared some of their learnings:
Following Weekend Edition through social media is a relatively new experience for most of the 7,000 respondents, but one they engage in frequently.
Listeners say that initially they became Weekend Edition followers because they wanted to receive updates and additional information. But they've continued to be followers because it has been a way for them to get to know the hosts as and interact with them.
The longer listeners follow Weekend Edition on Facebook and/or Twitter, the more positive their opinions of the show (Weekend Saturday and Sunday) and NPR become.
Listening to these results, I was curious to know:
(Regarding that third point above....) Are they assuming causality - or noting a correlation - between length of social media engagement and positive opinions of the show? It reminds me of crappy advertising effectiveness research that shows that people who 'saw the ad' are much more engaged with the brand....
Are those who follow the show on social media more - or less- likely to contribute? Is there a financial benefit to this increased engagement?
How many of Weekend Edition's listeners engage in Social Media activities?
What percent are fans of the show on Facebook or follow a host on Twitter?
For those who aren't interested or active, how do the frequent references to Twitter, etc. affect them?
How do the respondents compare to the 'typical' listener?
What do you think? How are you using feedback from social media sites? Or do you feel that your organization is misrepresenting or misusing information from social media sites? As a marketer - or a market researcher - tell us about your experience!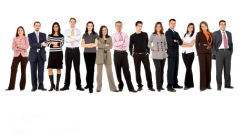 Learn more by
downloading our social media report:
"Why Social Media Matters for Your Business."
Posted by Judy Melanson. Judy leads the Travel & Entertainment practice and loves collaborating with clients on driving customer loyalty. She's the mom of two teens and the wife of an oyster farmer. Follow Judy on Twitter at @Judy_LC