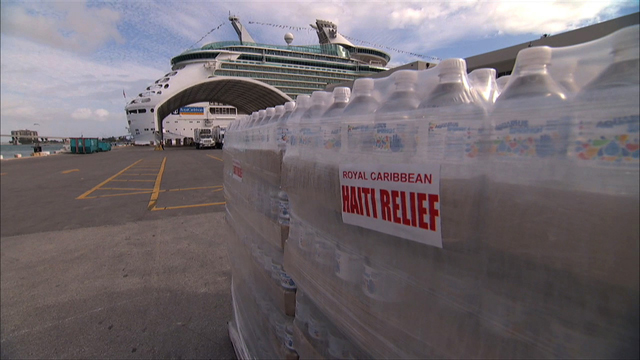 It's been over two weeks now since the first Royal Caribbean ship returned to Labadee, Haiti, after an earthquake devastated the island nation's capital of Port-au-Prince. The cruise line, though pledging money and supplies to the relief effort through this action, has generated considerable debate. The travel trade, mainstream press and cruise travelers have voiced strong opinions both in favor and against continuing port calls.
Given the importance of international expansion to many travel and hospitality companies, the increased risk (both natural and man-made) found in developing economies, and the power of social media to spread news to millions at the push of a button, I think it's worth taking a few minutes to reflect and review lessons learned from this natural disaster and Royal's response.
Note: Royal Caribbean is a client but this blog post is compiled from publicly available information.
First the facts:
1/13/10: Royal Caribbean CEO Adam Goldstein in his blog on the website speak about Haiti:
"As one of the leading investors in Haiti through our private destination at Labadee, we have nearly 30 years of involvement in the country and many, many relationships. We will attempt to utilize this blog to convey what we understand is happening and what our involvement will be in the relief effort."
1/15/10: Royal Caribbean resumes cruise calls on Labadee, a peninsula on Haiti's northern coast.
1/16/10: A story ran in the U.K.'s Guardian newspaper highlighting comments from travelers uncomfortable with visiting in light of last week's tragic earthquake, which sparked a flurry of debate - articles and blog posts in support of or highly critical of the cruise line's decision.
Now for the opinion: Nearly two weeks after the quake, news about the devastation and suffering in Haiti continue. We all - cruisers as well as those of us sitting in a heated room with a full belly - need to determine if and how to share our wealth with the people of Haiti. In my opinion, Royal Caribbean has done the right and ethical thing by continuing visits to Labadee. Consider the alternatives: divert the ships to visit another island (asking guests to avoid looking to the left as they sail past Haiti?) Cancel the cruise? What benefit or impact would either of those actions have had on the cruising guest? On the people of Haiti?
I applaud Royal's continuing commitment to the people of Haiti (for more information, see the blog on Royal Caribbean's website). In the last two weeks, Royal Caribbean has donated more than 120 pallets of goods -- primarily water, the island nation's number one need, but also nonperishable foodstuffs. Four more ships will bring supplies over the next week and a half, including not only more food and water but also medical supplies. In addition, they are donating all money made during Labadee calls through at least February 1, at which point the cruise line will re-evaluate the situation. The first three days of calls netted $110,000 -- all passed on to the relief effort. Finally, the line has pledged at least $1 million in aid, but the final tally will far exceed that and is already projected to be closer to $2 million.
Here are 5 lessons I've learned from observing Royal Caribbean's actions that are relevant to all travel and hospitality marketers:
First and foremost, consider guest/employee safety. Ensure that all plans made keep customers and employees out of harm's way.
Quickly plot a course of action. Consider alternative scenarios and the impact of each on key stakeholders. Share your decision-making process and justify your decision knowing that there may be no "right answer" but some are better and more defensible than others.
Communicate - through all possible channels - with empathy. Expect the topic to be discussed in online consumer chat sites. Ensure accurate information about your initiatives is available to readers

Get the word out about your initiatives - Publicize the heck out of it. Royal used multiple communication channels: Blog. PR. TV. Tweet. Facebook.
Determine the contribution -- particularly if your organization has access to unique benefits -- you can make to relief efforts.
Equip your employees - particularly Managers - who are 'on site' to communicate with customers


Listen. Be sensitive to customer concerns and solicit customer feedback. Express real concern.
Give openly and generously and enable customers to contribute in support of relief efforts
I'm sure others with more experience in PR or Crisis Communications can improve the list. What other reactions do you have to Royal? What else have you learned from their actions?

Relief Update
http://www.nationofwhynot.com/blog/?p=906#more-906
Posted by Judy Melanson. Judy leads the Travel & Hospitality practice and loves collaborating with clients on driving customer loyalty. She's the mom of two teens and the wife of an oyster farmer. Follow Judy on Twitter at @Judy_LC