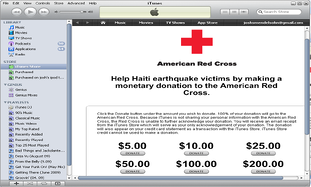 As everyone knows, on January 12 Haiti was devastated by a 7.0 magnitude earthquake. In the days following the disaster lots of organizations rang bells and helped us all transfer money to the relief effort. One big difference from the past occurred to me as we considered the best way to help... The people making it easy to transfer money weren't financial institutions.
In an email from Apple I was told that I should "Donate on iTunes - it's as easy as buying a song." Verizon told me all I had to do to make a $10 donation to the American Red Cross is to text 90999 with the word "HAITI" and then I'd receive a (free to me) text response to confirm my $10 donation, all of which would go to aid. My donation would appear on my bill.
I went to Amazon to buy a book and it says I can donate with Amazon payments to Haiti. And for eBay of course, I always can transfer money using PayPal account. My cousin, who's an artist, is donating 100% of the proceeds of his artwork on Imagekind.com, a CafePress company.
In many cases, my children are involved in donations to worthy causes. As I was collecting my 10 and 7 year old's physical cash and making my electronic donation, the conversation drifts... How many people may be buried alive? Can people swim to safety? What if their moms and dads are dead? How did Giselle mail her $1.5M donation to Haiti? How can we save so we can help more?
When I was younger, the solution was simple. Get a passbook at the bank and encourage savings, allowing children to spend on the things important to them. But now the real banks assess fees for low balances and those lollipops can be found at the hairdresser, which we visit with more frequency.
My kids affiliate with those relevant, exciting and trustworthy companies that make it easier than ever to donate. As relief organizations circumvent traditional financial institutions and deal directly with consumers, and with the ease of transactions and evolving technology, I can't help but wonder: are iTunes and eBay my new banks?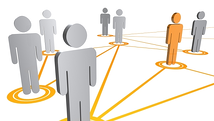 Segmentation Best Practices webinar
Chadwick Martin Bailey's Brant Cruz will present best practices of market segmentation based on his years of experience he has as CMB's segmentation guru working with clients like eBay, Electronic Arts, Plantronics, and Microsoft.
Register here to watch the full Webinar.
Julie Kurd is a Director on CMB's Financial Services and Insurance Practice.