Like any custom market research firm, the vast majority of our work is proprietary to help our clients make decisions around branding and communications, product and service development, customer loyalty or segmentation.
We invest a lot of resources in making the results of our projects easy to read, understand, and share throughout client organizations. This not only promotes the value and impact research has on business decisions, but in some cases it can extend the life of the research and create opportunities for others to see something in the results that you didn't and find stories that can help drive the business from another angle.
For example, I look at research findings with a different hat on, with a different mission in mind. I'm always looking for the story, a reason to blog, tweet, and communicate with our customers and key media contacts. And I often find the best opportunities are right under my nose in the data we already own.
In fact, we have several clients that do an amazing job at maximizing the PR opportunities found in their research results including MetLife, Kijij (eBay's online classifieds), Cisco Systems, and PNC Bank.
In every research project there are opportunities for stories to be uncovered... so where you can, go ahead share the results and see what's uncovered!
Do you share your research results with your PR/communications departments?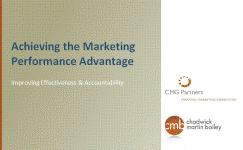 Interested in learning more about Marketing Effectiveness? Join us for a webinar on February 24 from CMB and our friends at CMG Partners: The Marketing Performance Advantage: Best Practices for Measuring and Managing Marketing Performance.
Posted by Kristen Garvey. Kristen is CMB's Director of Communications, a mother of two, and loves a good story.