Here in Boston it has become tough to digest a Super Bowl week without our beloved Patriots involved. Given my love for the food and music of New Orleans and the fact that CMB's President, Anne Bailey Berman is from Louisiana, I'll be wearing black and gold when big event arrives. But what are other people thinking and tweeting about as the "big event" approaches?
Using Voxtrot Opinion (a cool way to monitor and analyze online conversations from our friends at Crimson Hexagon) I looked at what people in the Twitterverse (Twitter users) are talking about this week. The first finding, "the big event" isn't necessarily the game itself. In fact, just 38% of tweets related to the game and the two teams involved (24% in favor of the Saints, 14% in favor of the Colts).
So what else is on the table? From discussions of who is (Focus on the Family featuring Tim Tebow) and who isn't (Pepsi) advertising this year to planning and attending parties to questions about the point spread and halftime performance, there is a wide range of discussion going on as shown below. We'll take a look again on Monday and see if the conversation has changed.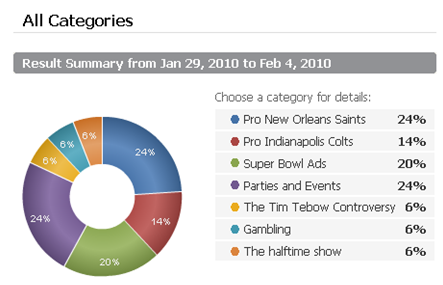 Given the significant interest in super bowl ads, we'll also be releasing research next week not just about what people remembered or liked most (lots of firms do that), but what viewers actually did about it. Did they go online and watch again? Did they visit a website? Post on Facebook? Post on Twitter? Talk about it with friends? Actually buy something? After all, buzz is nice but temporary. Buying and building customer relationships is much more valuable.
And if you're rooting for the Saints like me, here are some great New Orleans musicians to get you in the mood. Anders Osborne, The Meters, Galactic, Stanton Moore Trio, Big Sam's Funky Nation, Shamarr Allen, Paul Sanchez, and Glen David Andrews.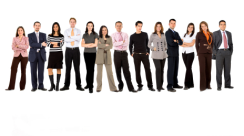 Read more of the findings by downloading our report:
"Why Social Media Matters for Your Business."
Posted by Josh Mendelsohn. Josh is our VP of Marketing and loves live music, pugs, tv, great food, market research, New Orleans, marketing, Boston and sports. You can follow him on Twitter @mendelj2 and at The Better Research Blog