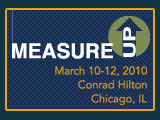 Earlier this month about 100 practitioners, academics and thought-leaders met in Chicago at IIR's Measure Up conference. The conference was designed to review the state of the art in Linking Marketing to Financial Value Creation and inspire development of enhanced analytics and approaches.
The topic of Marketing Performance - or Return on Marketing Investment - has been popular for years. A quick search on Google for "Marketing Performance" generates 98 million hits; "Marketing Accountability" another 2 million.
Part of the reason CMOs are seeking - and some CEOs demanding - marketing accountability relates to spending: U.S. companies are spending more - a lot more - on marketing while, since customers are abandoning traditional forms of advertising they are getting less. Michael Dunn, CEO of Prophet tells us in his book, The Marketing Accountability Imperative, the Super Bowl audience declined from 94 million in 1996 to 91 million in 2006 yet the cost of a 30-second spot increased from $1.1 million to 2.6 million! Twice the cost for fewer viewers!!
Two and a half years ago, the advertising world was surprised when P&G launched its Brand Agency Leader (BAL) program that ties 10 percent of an advertising agency's fee to brand performance; Coca-Cola dropped a bomb when it recently announced its value-based compensation model, where performance against goals dictates what, if any profit the agency receives. (read more at ANA).
With accountability and cost for marketers rising, here are some key conference takeaways that can help us all be more successful in today's world:

As Dominque Hanssens of from UCLA Anderson Graduate School of Management said "Either marketing matters... or it doesn't." Measurements of marketing accountability need to be based on 'what matters.' Marketing needs to prove its discrete value, over time both driving in-period sales and creating long-term brand equity. We as marketers need to prove that our actions and activities (over time) are driving profit.


CMB's own Rich Schreuer and Courtnie Ross, CMG Partners said marketers must focus on providing support for decision-making in your company. Engage with colleagues in operations and finance to build a language for measuring marketing performance that is relevant and understood in both areas... most speakers cast their vote for "profit" since it is understood by all.


Scott Deaver from Avis Budget Groupjoked that some suggested he "discontinue all non-Internet marketing investment since the tools in place to track online spending are so good." Resist the temptation to measure what's easy - and fight to 'measure what's important.'


In a roundtable discussion, Kevin Clancy, Michael Dunn and Robert Malcolm described current tools as adequate (particularly in Consumer Packaged Goods industry) for measuring the impact of marketing investment on 'in-period' sales results but...

Measuring the brand equity/long term impact of marketing investments is still a challenge -
We need to beware of escalating the 'crack cocaine' impact of short term promotions on sales which over time can train consumers to 'only buy' when the product is on sale



Numerous presenters showed that a successful program of measuring marketing optimization leads to a feeling of control over the business - a clearer understanding and more confidence that can help marketers:

Allocate marketing spend strategically to get the most profit from the marketing dollars spent
Create the marketing budget (and allocation) from scratch instead of just using the X% over last year's budget method
Figure out 'what you would do' with one extra dollar to spend... or where you would cut if the budget was cut
Learn when you can stop spending... how much is enough?
Find the proper balance between short term and long term goal spending
Drive better financial results (hopefully!)
In summary, there has been a lot of progress in how marketing is measured and how those measurements are used to make decisions. There is still, however, lots of room for improvement. And while better tools are coming... there is no reason not to get started today. "Good and Now" trumps "Late(r) and Perfect"!

How to Improve Marketing Performance
CMB and CMG Partners share the findings of a joint research study among over 400 CFO, CEO and marketing employees of companies with 100+ employees interested in measuring the performance of their marketing initiatives.
Want to learn more about the CMB-CMG Partners presentation on Marketing Performance Best Practices? Contact us.

Posted by Judy Melanson. Judy leads the Travel & Entertainment practice and loves collaborating with clients on driving customer loyalty. She's the mom of two teens and the wife of an oyster farmer. Follow Judy on Twitter at @Judy_LC