Life Insurance: The investment product that protects more than just one's money
I previously blogged the purchase of life insurance is driven by the values one holds important and not just by socio-economics and life-stage events, and that many in the "life insurance world" feel that life insurance is not bought; rather, it's sold by motivating people to want to take care of their loved ones or put another way, by appealing to their values of protection, family and tradition.
I also wrote this sold-not-bought orientation is primarily due to the notion that life insurance forces people to acknowledge their own mortality, something which people in general, and young adults with their whole lives in front of them in particular, would rather not contemplate.
A recent online study Chadwick Martin Bailey conducted among 1,500 U.S. consumers this past February, showed people seem to transition from not being insured-to-being insured when they enter their 30's.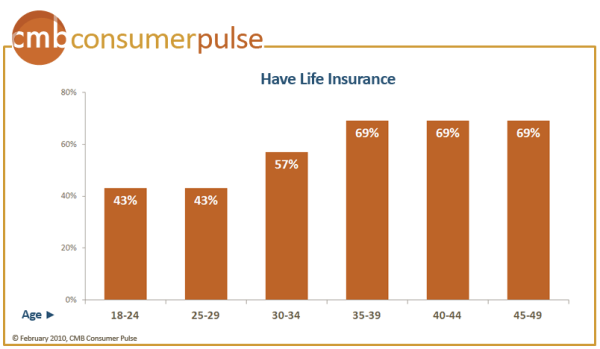 Intuitively this seems to make sense and basis CMB's study:
43% of adults first marry between the ages of 30 and 39 years
Between the ages of 25-29 years and 30-34 years there's a 27-point jump in the percent having a child 12 years-of-age or younger (19% vs. 46%)
The percent of adults considering "Family" an important value increases 7-points between the ages of 30-34 years and 35-39 years (74% vs. 81%)
So, while adults in their 30's begin to buy life insurance, what can be done to sell coverage to adults less than 30 years-of-age, adults that, per Jack Weinberg, can still be trusted? Motivate them to take care of their loved ones? Perhaps, after all, 38% of those aged 25-29 years get married and 19% of them have a child 12 years-of-age or younger.
Still, I can recall being that age, feeling rather indestructible, and asking this agent "Why in the world do I need life insurance?" Especially since, if I were to die, my spouse was young enough to take care of herself and there were parents/grandparents around to provide whatever financial support might be required. So again, "why in the world do I need life insurance?"
Because, as I later learned, whole life insurance was more than just a way to protect loved ones; it was also a savings and investment product, building cash value against which I could borrow, if necessary, with little questions asked, since I was, in essence, borrowing from myself. And, largely thanks to this, each of my children graduated college with no debt!
So, how to sell life insurance to 25-29 year olds? Per CMB's study, 32% of 25-29 years olds plan to invest in stocks, bonds, mutual funds, money markets in the next 12 months (ending Feb/March '11), suggesting that an effective approach might be to position and promote life insurance as not insurance per se, but as the investment product that protects more than just one's money!

Segmentation Best Practices webinar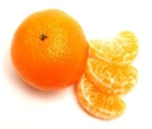 Chadwick Martin Bailey's Brant Cruz recently presented Best Practices of Market Segmentationbased on his years of experience he has as CMB's segmentation guru working with clients like eBay, Electronic Arts, Plantronics, and Microsoft.
Posted by Dan Gersten, an Account Director/Consultant in CMB's Financial Services, Healthcare, and Insurance Practice. Dan is a published author and former reality TV contestant on American Inventor. You never know what Dan will come up with next!