There's no question social media is impacting how companies communicate with their customers, but it is also giving customers a platform to communicate with each other and share their experiences. As part of our Q1 2010 Consumer Pulse we asked 1504 US adults about their social media use and attitudes as it relates to travel. Last month we talked about the impact of
guest reviews
on hotel bookings. We are also seeing similar trends in the cruise industry.
We asked several questions on cruising and found 7% had taken a cruise in the last year; two-thirds (n=70) on a Mainstream cruise line (e.g., Carnival, Disney or Royal), and about one-third with a Premium (Celebrity, Holland etc.) or Luxury (Crystal, Cunard, etc.) brand (n=30 for recent Premium cruisers). I wanted to share three findings I found very interesting.
One in five Mainstream cruisers chose Online Guest Reviews as the most important source of information on the cruise.
While most cruisers use the cruise company's website to gather cruise information, the next most frequently used source for Mainstream cruisers is Online Guest Reviews and Ratings. While many Premium cruisers seek referrals from family and travel agents and peruse brochures, one-in-three consult online guest reviews.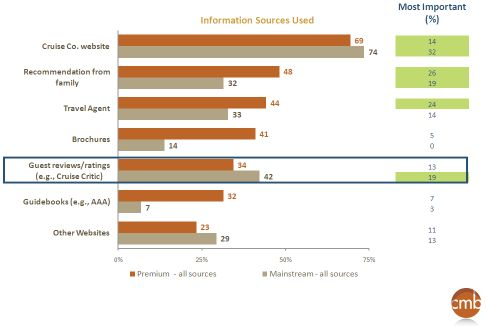 Most recommendations are still happening in person
Since the cruise, 85% of Mainstream and 71% of Premium cruisers have recommended the cruise to friends and family. The vast majority of recommendations occur in person (90%+); one-in-five made a recommendation by email or phone. Since the cruise, only 10% have posted a review online at a site like Cruise Critic.
Negative ratings impact bookings
Regardless of cruise type, a poor rating on a review site negatively impacts booking likelihood. Six-in-ten told us they were less likely to book a cruise that received only one star. Conversely, over nine-in-ten are more likely to book a highly rated cruise.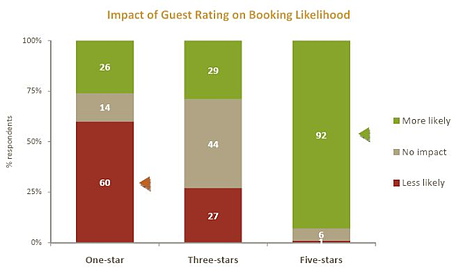 This research highlights that: (1) communications outside the control of marketing drive bookings, (2) online guest review sites have become one of the most common and important sources for information seekers and (3) highly negative reviews decrease booking likelihood. There is no question social media has given consumers a new platform and companies a new opportunity to connect and engage with their customers. The real questions are:
How well are you monitoring customer reviews?
How can you encourage customers to share their positive experiences?
How can you use guest reviews to improve service?
(An interesting read: USA Today article Hotel Managers Monitor Online Critiques to Improve Service)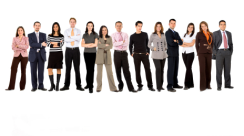 Read more about social media
by downloading our report:
"Why Social Media Matters for Your Business."
Posted by Judy Melanson. Judy leads the Travel & Entertainment practice and loves collaborating with clients on driving customer loyalty. She's the mom of two teens and the wife of an oyster farmer. Follow Judy on Twitter at @Judy_LC