Today's eMarketer email features an article about the relatively slow adoption of social media by B2B marketers. While some companies have jumped in quickly - and often without a plan - those that are slow to engage may lack executive support or have concerns about privacy, legal issues, or staffing.
And even for those who are ready to engage, while the venue selection is obvious for many consumer focused companies, B2B marketers often need to look beyond the mainstream social media sites like Facebook, Twitter, and even LinkedIn to find the best opportunities to make an impact.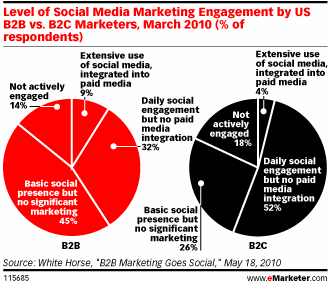 Our clients at AMD faced a similar situation. They knew they wanted to be active, but weren't sure how to prioritize. So after jumping into social media they took a step back to examine who their key audiences were and where they were active, which venues they needed to engage in, and what people were willing to accept from their brand.

Want to learn more about social media research? Watch our webinar featuring Georgeanna Liu and Chris James from AMD as they present a case study of how CMB conducted market research to support key social media strategy decisions and how AMD is using it today. Watch here.
Posted by Josh Mendelsohn. Josh is our VP of Marketing and loves live music, tv, great food, market research, New Orleans, marketing, Boston and sports. You can follow him on Twitter @mendelj2.