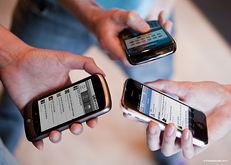 Have you seen the MSN Money Hall of Fame and/or the MSN Money Hall of Shame? The fame hall lists the top ten best companies for customer service while the shame hall lists the ten worst. When the list came out I asked my 7 year old to "name companies you think are the best companies in the world." And not surprisingly he was able to guess two (yes, a 7 year old's unaided awareness) of the top ten. These are the companies that we love to love in those easy to please industries...cool, whiz bang products, exceptional advertising, mass distribution, etc.
The trickier part is the Hall of Shame list. And working within the financial services realm, it was disheartening but not shocking to see that 50% of the list is made up of financial services firms.
Here's one mother's take on these halls of fame and shame.... these corridors of our lives, because financial services companies, like mothers of teens, are overrepresented in the hall of shame.
Hall of Fame. I'm personally in my household's hall of fame. My youngest child still holds my hand when we walk. He can't wait to share his day with me and he knows that I am fabulous at everything related to making his life more fun, safer, and happier. If he were rating me from a customer service perspective, I'd get all 'excellent' and 'good' marks (and hopefully he would recommend me to a friend.) Companies in the MSN Money Hall of Fame have attributes or value propositions that are similar to my personal capital with my son. He LOVES mommy. We LOVE Apple.
Top Ten Mothers and Leading Customer Services Company Commonality
Our advocates:
Love us and everything we symbolize. Emulate us. Want to affiliate with us.
Want others to know they're connected to us.
Trust us to make them feel safe and secure.
Know we empathize with them when they need a little extra listening.
Know we anticipate their needs and have 'apps' to help them live better and we always have their best interests at heart.
Respect us and know they're respected by us.
Chitter chatter or tweet about our amazingness to others.
Think up cool ideas and inventions and let us know so we can incorporate them into our dominion.
Are certain that we've thought about their pain points and have an ability to anticipate their upcoming problems.
We offer them things (words, products) that ease their condition and infuse their day to day lives with logistical support, relief, and playfulness.
Hall of Shame. Sad to say it, but I am also in my household's hall of shame. My pre-teen has a more mature and admittedly more accurate eye for nuance. If she were rating me from a customer service perspective, her expectations far exceed my abilities. Her frustration is exacerbated by my flub ups and she's very vocal about all the ways I've slighted her. No shortage of parallels here...
Top Ten Mothers and Shameful Customer Services Company Commonality
Our detractors (children, customers):
Expect us (and we expect ourselves) to first thank them for their negative feedback and assure them that we are listening
Feel slighted by every move we make. Everything we mess up, every corrective action we try to take...everything, everything irritates them and is our fault
Always have to wait way too long, whether they're at the top of the stairs yelling their guts out or on a xx minute phone hold, waiting for service
Are certain we take them for granted and feel they have little choice but to pout and bear it
Expect us to do that thing they asked us to do 10 times but we always seem to be working on something else like a dummy
Expect simple things, all strung together, should be equally easy to accomplish ....as we juggle all the daily transactions in life, we come up short... I am no magician...I can't get milk for cereal from the fridge while I'm straightening my older child's hair in the bathroom, plus snacks for school and...you know.... Just can't be done. We've either failed to 'staff' appropriately or failed reward self directed behavior and wean them from needing us at certain minutes of the day
They don't want to switch distribution channels....it's easier for us if they service themselves AND if they do, they get what they want and faster but they want to stand at the top of the stairs and scream 'where's my shoes' and they want us to give them a location +/- 2 feet...'not those shoes, c'mon'.
Everything we do is SO ANNOYING
We stink by definition. We don't understand.
We really, really stink
Mothers and financial services companies both have a knack for irritating our minions. We fall down because we do not fully understand our customers' needs and goals or offer products and services that are truly customer focused.
We need to put brand promises and customer experience in a model that is actionable and sustainable. We need to prioritize and fix the things that matter most to our constituents, plus maybe engage and transport them (but in a cool car please). We may need to reinvent ourselves and become someone new (like Umpqua Bank) or uber-benefit oriented (like ING Direct), or offer cool looking plastic for their wallets that do something that's rechargeable and reloadable and maybe sings a jaunty tune. It is more work than giving out a quick treat or some points, but in the end the effort is worth it.
While moms and financial services firms may never fully satisfy their harshest critics, we need to listen, fix, and communicate. Listen, fix, communicate...
Posted by Julie Kurd. Julie works on the Financial Services/ Healthcare team and thinks a lot about coffee, market research, Boggle, ski racing, sailing and the world of tomorrow. You can follow her on Twitter @juliekurd