There is a very interesting conversation going on right now in the Consumer Insights Group on LinkedIn about the future of the marketing research profession and how researchers and firms must adapt to be successful in the long term. There are new methods, skill sets, and mindsets that will be needed and placing a big bet on something new can be both a great opportunity, or potentially a colossal failure.
Among all of the forward looking talk, one of the comments captured a common, yet very real mindset with the research industry:
"We all talk big..but we have families to raise, mouths to feed, futures to protect, not to mention our backs and our very jobs. So..it's wonderful..really wonderful..to talk about the Brave New World of WHAT'S NEEDED. The problem is...when it's really down to the short hairs, it's REVENUE & SECURITY. And..in our wonderful business...that comes back to:

1. Do you have norms (G-d forbid you offer something new, without 20 years of norms...next candidate please)?

2. Do you have proven statistics that prevent our in-house cynics (or even us) from saying 'Yeah..we know..we're already doing that'?

3. Most important...do you have a prospective buyer IN A NEED STATE?"
Upon reading this I understood right away what the author meant. But I also thought to myself: "We rarely use norms and benchmarks and get on quite well." Certainly benchmarks play an important role in driving improvement for some companies, but they are not always all they are cracked up to be.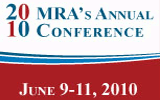 Chadwick Martin Bailey's chairman, John Martin, is generally not a believer in using benchmarks, especially when they are used blindly. At this year's MRA (Market Research Association) Annual Conference (June 9 here in Boston) he'll be presenting "The Perils of Benchmarking: 10 things to consider when deciding how you should benchmark against the market."
In this presentation, John lays out some of the challenges facing organizations who benchmark blindly and why benchmarking is bad for market leaders. After the conference we'll share the entire deck, but as you think about whether or not you are using benchmarks for good, as yourself three questions:
What is the role of market oriented benchmarking and benchmarks in your company?
Do they accommodate the market and organizational realities of today and tomorrow?
Are you caught in the myopia of using standardized external sourced competitive benchmarks to diagnose for improvements?
In fact, those are the questions you should be asking about all of your measurement programs. Are they adapting to the realities of today and tomorrow or just rehashing old questions and techniques. The world of marketing is changing and both supplier and client side researchers can't afford to be left behind.
Posted by Josh Mendelsohn. Josh is our VP of Marketing and loves live music, tv, great food, market research, New Orleans, marketing, his family, Boston and sports. You can follow him on Twitter @mendelj2.