Despite the media focus on new, cool technological devices, content seems to be what is really on consumers' minds these days. In today's CMB press release: Consumers Are More Excited About Content Than Devices we shared some very interesting insights collected earlier this year about which of the recently hyped technologies consumers are most excited about. I expected to see the iPad or Droid phones at the top of the list, but content was king with movie rentals via the internet topping the list and internet via TV also ranking relatively high.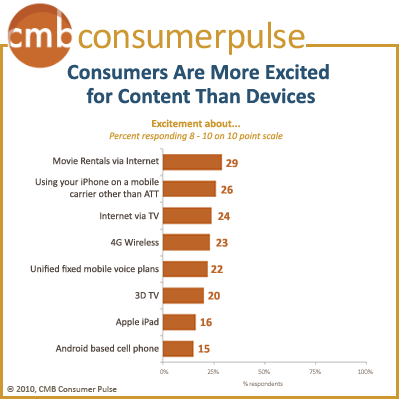 Even many of the new features and enhancements for the iPhone 4 seemed to be all about content. From video conferencing and editing to streaming movies via the new Netflix app, it's no wonder AT&T stopped offering unlimited data plans. This could be a slippery slope for consumers as they now need to become more educated on their data consumption, but that's a whole other discussion.
In a recent Ad Age article Michael Learmonth talked about the new Netflix iPhone app which streams movies either over the AT&T network($$$) or Wifi. I have to say Netflix always seems to be one step ahead of consumers, from DVD's by mail to delivery to the Wii and now streaming movies on the iPhone, they are in a great position to take advantage of this segment of the market. The presentation below shows that they have staked their claim and are clear and deliberate about their focus and their slice of the content pie.
In 2010 Netflix is expecting their subscriber base to grow to over 17 million. Although DVD-by-mail movie rentals are expected to continue to grow over the next few years, Netflix expects it to peak in 2013 and then steadily decline, eventually being replaced by online streaming. Hey why walk to the mailbox when you don't need to leave your couch!
Are you clear about how your key target audiences are evolving and what their technology needs are?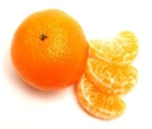 Better Understand the Needs of Your Segments: Segmentation Best Practices webinar
Watch Brant Cruz and Jeff McKenna's recent presentation best practices of market segmentation. Brant and Jeff shared tips and case studies based on their years of experience working with clients like eBay, Electronic Arts, GE Healthcare, Plantronics, and Avis-Budget. Watch here
Posted by Kristen Garvey. Kristen is CMB's Director of Communications, a mother of two, and is seriously debating making the switch to AT&T for the new iPhone 4