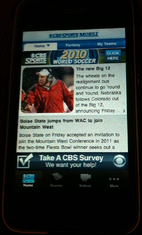 Last week I was riding home on the T (that's our subway here in Boston) and using my iPhone to check in on one of my fantasy baseball teams when I was recruited to take a CBS survey through their mobile app. After starting to participate (but not completing due to length) I came back to a question that is always on my mind when it comes to mobile research, are we as an industry spending too much time developing "mobile" ways of doing research instead of optimizing our online research for mobile devices?
For even the largest research firms, development time is limited and prioritizing resources is extremely important, so where should we be spending our time?
The case for truly mobile surveys: Conducting surveys using a mobile app allows you to recruit people to participate based on their mobile behaviors or enabling them to opt-in based on an activity they are currently participating in. It also ensures that the survey will be formatted correctly for use on the go. If you can keep it very short (a requirement for truly mobile surveys), you can get information at the point of experience that can guide improvements to the customer experience.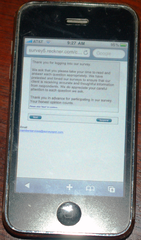 The case for mobile friendly surveys: As smartphone adoption continues to swell and the web browsers for even non-smartphones improve at a rapid pace, people are using their mobile devices as a primary, or at least heavily used secondary way to interact with the internet. This means that the people who are most interested in your products, services, etc. are checking and acting on their email from mobile devices. It also means that many of your "web" surveys are actually being completed via mobile devices. Or at least people are attempting to complete them via mobile devices. Researchers and panel companies need to recognize this fact and set parameters for layout and length that work with today's consumers.
So which is more important?
In the short term, I believe it is more important that every quantitative survey launched become mobile friendly and that how people are participating be asked up front. This may impact the ability to use interactive questions and shorten the attention span of the people you want to get feedback from, but failure to do this means that you could be making it impossible (or at least very difficult) for your target audiences to participate. After all, people who participate are a key audience for the market research industry and we all need to act in the way that best suits them and their evolving needs and behaviors.
Posted by Josh Mendelsohn. Josh is our VP of Marketing and loves live music, tv, great food, market research, New Orleans, marketing, his family, Boston and sports. You can follow him on Twitter @mendelj2.