Part 1 of a 3 part series
Q: Jared, what is sample blending, and why do companies do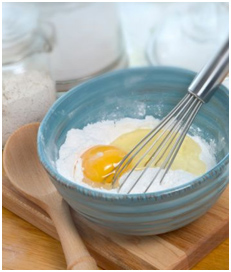 it?
Jared: Sample blending is a method of acquiring online sample that goes beyond traditional research panels to include multiple respondent sources .
For example, say you're working on a study with a major airline regarding their rewards program. The airline may post a link to a survey on their web site and offer rewards points or miles as an incentive to augment the sample they get from traditional panels. Another common method of sample blending is recruiting via specialty sites, affiliate sites, and social media. So in a company's Facebook or MySpace sites, there might be links to surveys that are relevant to their audience. Sample providers like SSI and OTX are doing this as well-they'll go out to traditional panels, social media, affiliate rewards programs, and other sources where they can reach the respondents clients are looking for. There is even a company out there, MKTG, Inc., that will help you determine the best sample "blend" for any given project.
Q: You talked a little bit about the different types of sample blending and how they have value. What do you think that value depends on? How do you determine that value?
Jared: There are only a few companies right now that are doing this form of blending, even though this number will continue to increase. I feel the value is often more geared towards the actual vendors than to the clients. What's happening is that traditional panels are becoming obsolete, and they will probably become obsolete in the next few years. People are using Facebook, Twitter, and other methods of communication as much, if not more, than email. So for traditional panels, it's hard to get fresh bodies to commit to a research panel these days. Panelists then have to check their email regularly for survey invitations and go take the surveys as they become available. One of the benefits for the companies offering blended sample is that they can reach people virtually wherever they are. So, theoretically, low-incidence studies may be more feasible with blended sample because you can reach twenty million people rather than a panel's one or two million active, and available, panelists.
Q: Are Blended Samples more or less representative than traditional samples?
Jared: It can be argued that blended sample is more representative of the general population. Again, if you have a traditional panel, those people are recruited in a specific way-through a single website, several websites, through a rewards program, etc. With blended sample, the theory is that this method can be more representative because you're going out to a variety of different sources. I think that both methods, traditional and the blended sample, have their place. They are both resources that we use, and will continue to use, but I think the trend is to go towards multiple sample sources rather than just one sample source. Each project at Chadwick Martin Bailey is different from the next, so it's important that we consider all of our options very carefully to determine the best plan of attack when it comes to sampling.
Thanks Jared!
As the Field Services Manager at Chadwick Martin Bailey, Jared oversees and advises on the data collection process, often for very large projects with hard-to-reach audiences. Jared is also on the New England Barbecue Society's Board of Directors and is the pitmaster on a competition barbecue team.
Posted by Stephanie Kimball. Stephanie is our Marketing and Sales Coordinator and loves any and all sports, the beach, traveling, marketing, being challenged, good food, nightlife, and Saturday afternoon naps. You can follow her on twitter @SKBalls.