My name is Josh. I am 34 years old and a pretty smart guy. I know almost nothing about insurance. And I am not alone.
For much of my life I was on my parents' insurance plans. When I moved out on my own I adopted their auto insurance carrier as my own and took the recommendation of my employer for my health insurance carrier and plan. And as I move into the next phase of my life with my wife, dog, and baby boy, I know I need Life Insurance but am paralyzed by the process. In February we conducted market research with over 1500 consumers about their knowledge of their insurance coverage and how they educate themselves about their coverage, finding that many young people are like me, admitting they don't have a good understanding of their insurance coverage in general, wishing they knew more.
Of course, this presents a great opportunity for insurance carriers who target Gen Y and even moreso for those targeting Milennials, 30% of which admitted they don't have a good understanding of their insurance coverage in general, with 57% of them wishing they had a better understanding. Sure, everyone knows the duck and the cavemen and all of the other insurance mascots and icons, but which carriers are taking it further to actually help young consumers make smart decisions about their insurance options.
One company that seems to be moving in the right direction is State Farm. Marketing Daily reported today that State Farm is releasing new TV spots this fall and have launched a new micro site, WhyAgent.com featuring comedian Ben Posner with all the reasons (some pretty funny) why you need an agent. This is an aggressive push for this segment of the market, and our recent consumer pulse data indicates that's probably a smart move for State Farm.
So how will State Farm reach this younger generation? Online seems to be the most likely channel. According to the research mentioned earlier, over half (56%) of 18-24 year olds do their insurance research online, while 28% will call the company directly, 34% will speak with an agent and 37% will ask their friends for recommendations. State Farm's big online push with YouTube videos and the new micro site is a great approach, but with 37% asking their friends for recommendations it seems as though more robust social media strategies would have to be on the radar as well. (See what Allstate is doing.)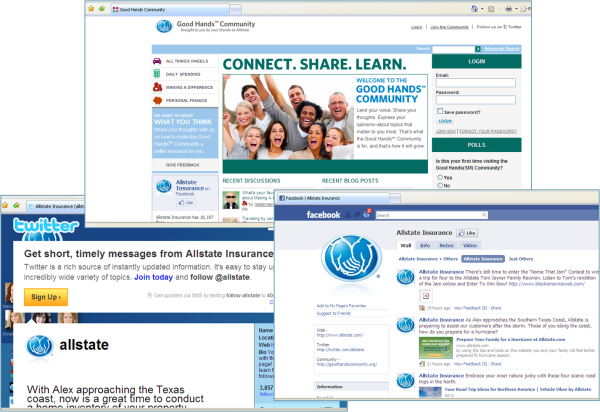 Buying insurance can be confusing and daunting regardless of age, but even more so for the younger crowd. Like ING Direct did so well in the financial services space, there is a great opportunity for carriers to engage with Gen Y and Millenials through new messaging and media in an educational way. And with brand awareness extremely high for all of the major carriers it seems time for many to move towards helping people buy with trust and confidence, even if the message is sent through Youtube.
Posted by Josh Mendelsohn. Josh is our VP of Marketing and loves live music, tv, great food, market research, New Orleans, marketing, his family, Boston and sports. You can follow him on Twitter @mendelj2.