I spent most of this week at the 2010 Shopper Insights in Action Conference, which is always one of my favorite events of the year because unlike many market research related conferences the attendees are eager to push the edges and try new and different ways to understand consumers. Even though they employ traditional techniques, they are hardly wed to them and epitomize the concept of multi-method, multi-source research (using multiple types of data and data sources to answer a question.)
We've been talking about multi-source, multi-method for years at CMB, but it is pretty amazing how much the landscape has changed even in just the last four years. Searching through the article archives I found a 2006 article that laid out many of the available qualitative tools, and it feels (how do I say this nicely?) a bit outdated.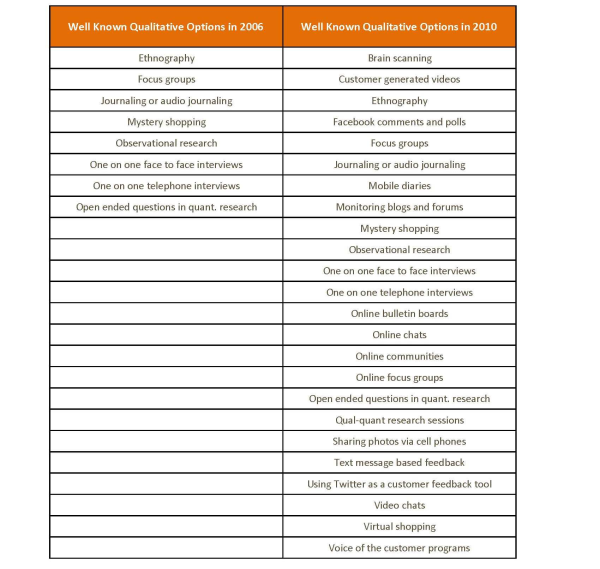 While a quick perusal of today's list is a bit overwhelming, I am certain there are plenty of options that I failed to include. There is both a challenge and an opportunity in the fact that consumers are smarter than ever and willing to provide more robust and useful insights than ever before. Between technology that simulates real world experiences and improvements in our ability to listen to consumers in their own environment, there is no shortage of ways to give and receive feedback. The hard part is choosing the right technique or set of techniques for a given situation and making sure that information users understand the biases and limitations of each.
With all of the available options, what new tools have you added to the tool box in the last 4 years?
Posted by Josh Mendelsohn. Josh is our VP of Marketing and loves live music, tv, great food, market research, New Orleans, marketing, his family, Boston and sports. You can follow him on Twitter @mendelj2.