Before Windows 7 was released CMB reached out to our own panel of IT experts as part of our Tech Pulse program to get a gut check for the planned adoption rates of Windows 7. The initial news was quite positive, especially after Microsoft had such a tough time with Windows Vista. In fact, our initial research shows that the majority of IT professionals plan to standardize on Windows 7 operating system (OS) for a variety of products in the enterprise. The research shows that 51% plan to standardize on Windows 7 for laptops and desktops, while 38% plan to do so with netbooks over the next two years. In addition, 60% plan to standardize on Windows Server 2008 R2 in the next 24 months.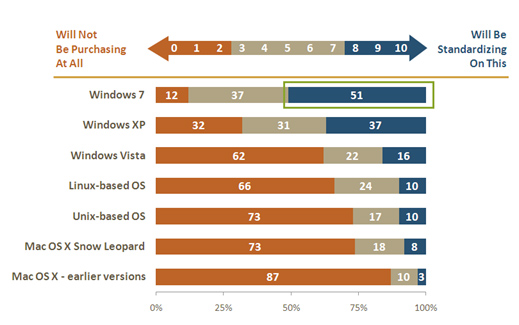 I see these numbers and an early indicator of success for Microsoft's enterprise success with Windows 7 and a welcomed shift from the adoption rates of its predecessor, Windows Vista.
However, there are some challenges for Microsoft I will talk about in my next post. Google is the kind of company we all need to watch, as in the past they have demonstrated their ability to come from behind and dominate in other areas. Next we will take a look at Google Chrome and the potential threat that poses for Microsoft.
Subscribe to the CMB blog to keep up to date with the latest trends. For more information on the Windows 7 Uptake Plans download the full report free or listen to our webinar How Windows 7 is Changing Enterprise IT OS Plans