An article recently in Information Week caught my interest. Titled
Global CIO: Oracle, SAP, And The End Of Enterprise Software Companies,
it underscores the shift in thinking from the enterprise line of business and from IT executives on all enterprise applications. I would argue that heavy lift application implementation is increasingly becoming an anomaly due to difficult implementation and high investment cost. To quote Bob Evans from Information Week in the article: "
It also means the days of big, blunt, mega-purchases of software are for the most part behind us--and for SAP and Oracle to continue to grow, they therefore need to step aggressively into new revenue streams other than software to keep investors happy
."
The recession has fundamentally and forever changed the way enterprises will acquire applications and for that matter many other parts of their IT infrastructure. What has saved the server business in the near term is the dramatic ten-fold increase in cost per processing unit productivity due to lower server prices, virtualization and improved processing power. Although, I think the long term outlook holds marginal upside for on premise servers given the rapid deployment of in-house and cloud computing.
No cost savings breakthroughs in delivery have taken place or are foreseen for legacy enterprise applications. Conversely, web based, cloud delivered applications have a strong value proposition based on cost savings and administration efficiencies. The following chart summarizes the relative position of specific vendors based on recent research which CMB did with enterprise IT managers. Not surprisingly, some of the newer entrants like Google and Salesforce.com have a place in the more favorable quadrant.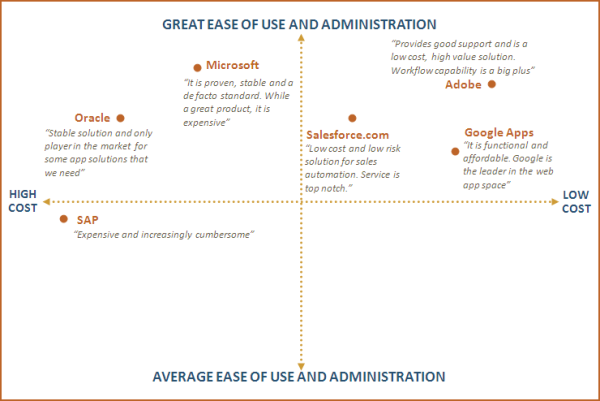 This shift to applications through a services delivery model and the increasingly important role of implementation and management services through integrators, managed service providers and VARs will take place faster not slower than people think. A sea change among IT executives has already happened on acquisition and management of applications. The great news for application providers is that their core business benefit and functionality can be provided through these new delivery platforms and the vendors can still profit and thrive by adopting these new variable cost business models. The only question is which legacy companies can take the lead to acquire first mover status? In my mind the jury is still out.
To learn more download the full CMB Tech Pulse Report: Shifts are Starting in the Applications Status Quo
Posted by Don Ryan. Don is a senior consultant for CMB's technology practice. Don is an avid tennis player and enjoys reading political commentary and spy novels.