Next week I am speaking on several panels at the Netbook Summit in San Francisco. To prepare for the event I wanted to take another look at how consumer spending has changed in recent months and the impact of those changes on the purchase of electronics, specifically netbooks. We launched a CMB Consumer Pulse study and looked at the responses of 1200 US consumers ages 18-65.
Consumers
say
they have permanently changed their spending habits and are looking for lower cost alternatives. They also report they may never go back to their old spending habits; this will be an interesting trend to watch. Roughly 50% of consumers are continuing to spend on electronics, but spending less and 19% have moved to lower cost alternatives.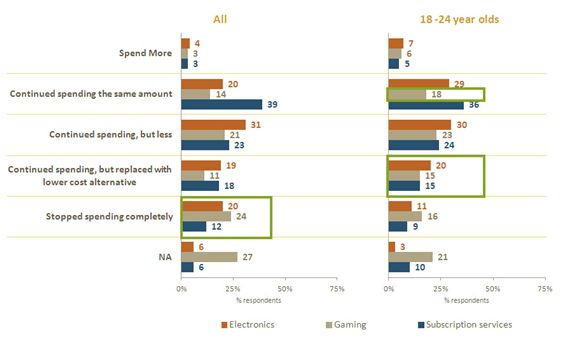 Netbooks have achieved fast penetration in the consumer market. The question now is do they get stuck at 10% penetration and be overtaken by tablets as the next big device. Widespread device penetration is usually measured in the 40% to 50% range. Price and cost considerations are still drivers of the netbook market, however, 23% of netbook users say they will substitute for tablets and another 24% for notebooks for their next purchase. Indeed, netbooks have the lowest repurchase rate of all devices. Expect netbook sales to remain strong, but do not expect to see the historical year over year growth rates. An improving economy may work against their value proposition, given that price and generic capability like connectivity options are driving adoption.
Posted by Don Ryan. Don is a senior consultant for CMB's technology practice. Don is an avid tennis player and enjoys reading political commentary and spy novels.