Last week I blogged about what consumers had to say about their electronics spending and looked specifically at
netbooks.
This week I want to share some other interesting findings- consumer perceptions and usage of technology and how this plays into the growing trend of the consumerization of IT.
We continue to see the lines between consumer technology and business technology become more and more blended. Of the 1200+ US consumers we surveyed, 29% believed that innovation in business will be led by consumer technologies. This underscores the rapid pace at which consumer technology is progressing and the increasing rate at which people bring it into all aspects of their lives to increase productivity. We have been watching the trend of consumerization of IT gain more momentum over the last few years. More and more consumers are using technology to increase productivity in their personal lives and have increased expectations for technology to do the same in their professional lives. This is especially true for 18-24 year olds who tend to be more excited about technology in general.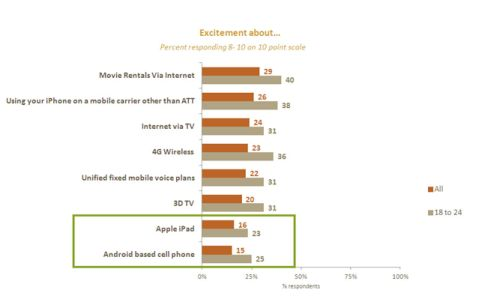 Even in a down economy 36% of 18 to 24 year olds say they are spending the same amount or more on technology over the last 12 months and are about 10 percentage points higher on excitement for almost all categories (4G adoption, 3DTV, etc). While this is not shocking, their impact as they join the workforce could have significant implications for technology providers and employers in general. Expectations and requirements for company supplied devices will likely be higher and the ability for young people to use their own devices may turn into a competitive advantage.
Posted by Don Ryan. Don is a senior consultant for CMB's technology practice. Don is an avid tennis player and enjoys reading political commentary and spy novels.