The mobile computing market is abuzz with
Apple announcing
yesterday they have sold 3 million iPads in just 80 days, Google's press conference today on
Droid X
and the shipment of the iPhone 4. With each release devices are getting smaller (well maybe not the Droid X), faster and smarter. Prices are also dropping as the competition continues to heat up. Smartphones, which were once just used by the business traveler are much more mainstream and now marketed to consumers thanks to the iPhone and
Verizon's buy one get one free promotions
.
So with all these changes to the mobile landscape we thought we would ask both consumers and our own IT decision maker panel to find out if they plan to swap one device for another. (See today's press release on the findings)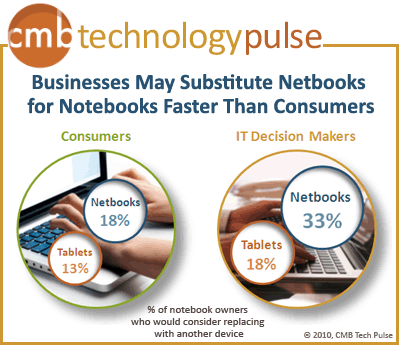 What we found was that businesses were more open to swapping out one computing platform for another than consumers. The biggest drivers for making the switch were not surprisingly cost and form factor, but what was a bit surprising was that close to twice as many IT decision makers than consumers are willing to ditch the notebook for a netbook the next time around. The netbook, which started out as a low cost computer targeted at consumers is seeing new life and new opportunity in the B2B market.

There has been a lot of hype around the iPad killing the netbook, but netbooks will see new life in the B2B market as long as manufactures research, recognize and capitalize on these shifts in the mobile market.
Posted by Don Ryan. Don is a senior consultant for CMB's technology practice. Don is an avid tennis player and enjoys reading political commentary and spy novels.