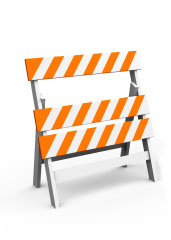 We recently conducted a webinar that featured Chris James, AMD's social media strategist. Chris talked about using market research to develop a social media strategy and some common barriers to investing in social media. This blog post is inspired by his words along with some of my own perspective…

When it comes to brands engaging in social media there can be a lot of internal barriers to making this investment of both time and money. It is a big investment (especially in time) and should not be made without a clear strategy and commitment behind it. And it's really not worth doing unless you are prepared to give it 110%.
Communication: One of the biggest barriers Chris talks about is evolving people who are not "natural" communicators. Many times a social media strategy may involve people (individuals and brands) who are hesitant to actually put themselves out there. It's important to guide them along in the process and invest in the training to help them succeed and become more comfortable. In the end, participation in social media will not be for everyone and it's best not "forced" on anyone, but many times people find they enjoy sharing their expertise and opinions.
Fear: For many larger companies there are legal and investor relations hurdles to cross. There is a common fear that too much information can create a competitive disadvantage or the wrong information will leak out. This is why having contributor policies and guidelines in place are so important. Intel is a great example of a company that has done a good job outlining their social media guidelines.
Budget: Money is one of life's constant barriers, there never seems to be enough. Chris stresses the importance of being judicious of the time, people and tools that are used to not only develop, but to sustain a social media strategy. It's important to take a step back and figure out where you can make the biggest impact. For one, not all social media outlets are created equal. (Watch our social media webinar with AMD to hear how they developed an efficient and streamlined social media strategy delivering on their objectives.) It is essential to align your resources around what's important first, rather than letting the hype or constant articles professing social media love drive your social media strategy.
Content: Social media is all about contributing good content regularly. Often there is a fear of not knowing what to say or having enough to say. This is why it is so important to not "go it alone" and have a team of people who are willing to contribute content on a fairly regular basis. Here at CMB we have regular contributors to our blog, each add their own style and expertise, and each adds their own flavor keeping the blog fresh.
It's important to understand who you are targeting, where those people live online, the best way to reach them and who within your organization will be best at speaking with them (virtually).
In the end, as with any new tactic or investment there are always barriers, but having a clear strategy helps to break many of those down and move forward.
Posted by Kristen Garvey. Kristen is CMB's Director of Communications, a mother of two, and is a regular contributor to the CMB blog.

Want to learn more about social media research? Watch our webinar featuring Georgeanna Liu and Chris James from AMD as they present a case study of h ow CMB conducted market research to support key social media strategy decisions and how AMD is using it today. Watch here.