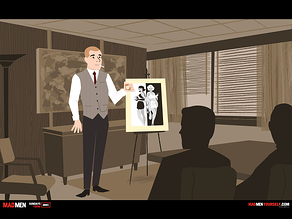 This past week's episode of the always awesome show Mad Men (episode 2, season 4) highlighted the ongoing disconnect between agency creatives and market research that most everyone in the market research industry has experienced at one point or another in their career.
In the episode, the newly formed agency of Sterling Cooper Draper Pryce is visited by a consumer-research company who wants to help the agency go beyond the surface of consumer behaviors and better understand their true motivations. The company's female representative, Dr. Faye Miller, asks senior staffers to complete a questionnaire as an example of what can be learned (the 0:57 mark of the recap below), leading to groans and the head of creative, Don Draper, to simply leave the room. Viewers of the show will recognize that Don's departure was most likely driven by the first question, "How do you feel about your father?" Still, the faces in the room did point out how agencies tend to regard market research.
So, why do agencies have a problem with market research firms? I think there is shared blame in four primary areas.
Not speaking the same language: Perhaps it is a left brain/right brain thing, or maybe it is because no two groups of professionals that work together are trained in more different ways, but the natural conflict between the analytical, risk reducing market researcher and the free expression and boundary pushing creative executive often makes the dichotomy between the two roles contentious from the start. To work in tandem, both sides need to recognize this difference in approach and find a common ground up front that will help the findings be more useful and give creatives information that helps their process instead of undermining it.
Data Presentation: Market researchers generally present findings in charts and graphs with a heavy focus on the numbers, not the story. Agency folks are focused on creating stories using pictures and video. While creating research reports that fit the intended audience (using a majority of verbatim, imagery, and even video instead of charts and tables) will not solve everything, it will help focus the conversation on things that really matter.
Pride of Authorship: Agencies, and particularly creative teams within agencies have a healthy pride of authorship/confidence level about the work that they do. Don Draper, for one, is the king of thinking he knows better than consumers themselves. This trait helps agencies deliver more than the status quo, and can also lead to the dismissal of research results. Agencies and research firms need to have a healthy conversation about the validity of research findings and do so in a constructive way that is working with, not against the creative pride.
Clarity of Purpose: Agencies and market research firms often come at an engagement from completely different angles that make it hard for those of us on the research side. In many cases, agencies believe that research firms are being brought in to "judge" what they are doing, where as researchers see their role as providing input into the creative process. Again, clear communication at the beginning and throughout the project about the process, objectives, and use of the findings can help smooth this tension so that both sides are working towards a common goal; a happy client (and one that is easier to take than Lee Garner, Jr.).
Posted by Josh Mendelsohn. Josh is our VP of Marketing and loves live music, tv, great food, market research, New Orleans, marketing, his family, Boston and sports. You can follow him on Twitter @mendelj2.



Don Draper might not have used it, but you can download our report on Engaging Consumers in the New Normal for free here.