Are you scared when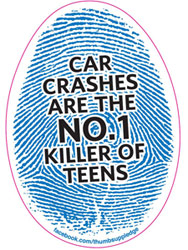 you see teens (or anyone) texting while driving? I just read a recent Marketing Daily article that talks about Allstate's latest education initiative "X the TXT" that encourages teens to stop texting while driving. Allstate's campaign leverages the marketing power of Jordin Sparks and the Jonas Brothers. Last year Jordin held her 'Battlefield' tour with a 29 city 'X the TXT' event/messaging and this year, the Jonas Brothers just began their 12 city "Road Dogs X the TXT" softball tour. I like this campaign for 3 reasons:
1. The Initiative- Allstate takes a leadership position on one of deadliest trends facing teens (and facing all of us who share lanes with them).
2. The Tools- Sure it's a campaign that benefits Allstate, but it is one with purpose and one that offers parents the tools to facilitate a conversation. It's is a valuable influence on our nation. Rather than unleashing their inner preacher, Allstate has also created a delightful 32 second 'mayhem' parody to enlist teens to make good choices. From concerts to YouTube, Allstate is communicating with teens on their turf and in their language (and in a pink car).
3. The Approach- Allstate is using a multi channel approach to modify teen behavior using a variety of relevant media platforms. Allstate understands that it really is a 'battlefield' (go Jordin) out there to captivate, enlist, and modify behavior of the mighty teen, and that messaging needs to play 'softball' (Go JoBros) NOT 'hardball.' According to 85,000 teens who already took the Allstate 'X the TXT' pledge… it's fun, interactive and teens get to hear people like Jordin Sparks tell them directly 'I'll be supporting you'. With half of driving teens admitting to being extremely distracted by texting and instant messaging while driving, per an Allstate Foundation study, I'm glad that our nation's teens are 'in good hands'.
Posted by Julie Kurd. Julie is a Director on CMB's Financial Services/Insurance and Healthcare Practice who loves ski racing, Tuckerman's Ravine, sailing and bananagrams. You can follow her @julie1research