Pizza is one of my most favorite foods and a staple in my household. I have my favorite places from local spots to the chains, but Domino's was never on my list for a number of reasons. Mostly, I just never liked their pizza, but I thought I should reconsider after reading Josh Mendelsohn's blog post a while back about their new ads…
"Coming off of last year's social media disaster, that painted them as unknowing and unhealthy, Domino's ads are sending a message that says, "We hear what people have been saying and we've dealt with it. Now give us a try, you might like us more than you think." I know that they have at least re-entered my consideration set, the first step to becoming a customer and potentially (with some free bread sticks, perhaps) an advocate."
While it took five months, a couple of weeks ago I had a house full of hungry kids and I took the leap and gave the "new" Domino's a try. I was not disappointed, however it wasn't the pizza that will keep me coming back, it was the customer experience.
To start the process, I went online and was easily able to navigate through the various sauces and crusts as well as special offers to add to my order. With just a few clicks, dinner was ordered. But what came next not only surprised me, it won me over and put Domino's at the top of my pizza list.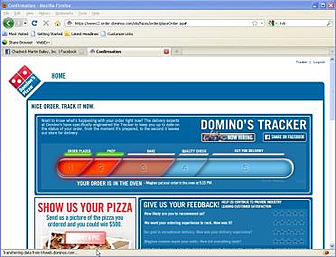 It's called the Domino's Tracker and it updates your pizza status as your order moves through the production line. I knew exactly where my pizza was at all times from my order being received to what time "Megan" put my pizza in the oven, it even told me that "Corey" left to deliver my pizza at 5:27. It was very cool and I have to admit I kept checking to see where my pizza was and being able to answer the timing questions of hungry children made it even better and highly differentiated from the standard "it'll be there in 30-45 minutes" I get from the local pizza shop. Not only did we know when the pizza was coming, we were engaged the entire time (cross-messaging/up-selling time, anyone?)
Certainly, the pizza was pretty good but it was the entire customer experience that won us over. Kudos to Domino's for taking advantage of new technology; easy online ordering and the very cool Domino's Tracker took a run of the mill and often frustrating process and made it an informative, engaging and personalized experience that will keep us coming back.
Posted by Kristen Garvey. Kristen is CMB's Director of Communications, a mother of two,and loves a veggie pizza and a cold Sam Adams Light.