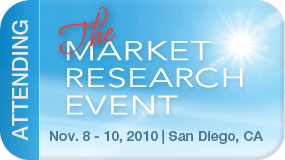 Join us at the 2010 Market Research Event in San Diego on November 8-10 where our client from Ameriprise Financial, Bob Biancamano will be speaking on work we conducted together and CMB's Jeff McKenna will be speaking with Gina Bruzzichesi from Avis Budget Group about How Avis Budget Group Applies Insights throughout the Organization. Follow this link to get a 25% discount on registration for the event. And read all of the details below.
Topic: How Avis Budget Group Applies Insights throughout the Organization
Speakers:
Gina Bruzzichesi, SVP, Strategic Customer Leadership, Avis Budget Group
Jeff McKenna, Senior Consultant
Learn how the team at Avis Budget Group (Avis and Budget Rent-a-Car), with help from Chadwick Martin Bailey, systematically built strategic insights into their decision making process to make it a fundamental part of the business. From simple surveys to in depth analysis, learn how ABG uses market insights to better understand their customers and customer experiences, develop internal benchmarks for location performance, refine service strategies, evolve ABG's core offerings and identify cross-brand efficiencies.
Topic: B2C Market Segmentation for Intermediated Businesses: The Case of Ameriprise
Speaker: Bob Biancamano, Market Research Executive, Ameriprise Financial
Listen to Ameriprise describe how they linked customer segmentation to specific business decisions to grow the business effectively and efficiently. They will talk about the research design, the decisions they made around segmentation schemes, and the ways they've implemented a shift in focus toward those customers who represent the greatest growth opportunity. They also will talk candidly about some of the challenges they faced during the adoption phase.