Just a few weeks ago I blogged about how much I love Domino's new Pizza Tracker. The Domino's Tracker serves up a customer experience that's a cut, or should I say slice above the rest. It makes ordering pizza interactive, fun and efficient- all with a personal touch. Well it seems a few others like it too, their new online ordering has sent profits soaring!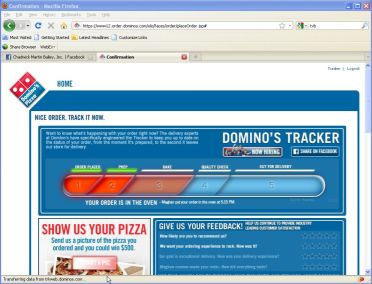 The Detroit Free Press reported yesterday that the Domino's Tracker has been a big win for the company boosting their online ordering profits by 23%, making Domino's the 4th largest e-tailer just behind Amazon, Staples and Office Depot. That is incredible, a pizza franchise the #4 online retailer? They posted profits of 47.1 million in the first half of the year, up 23% from a year ago. Now a quarter of all Domino's orders nationwide come from online.
Yes they changed the pizza recipe too, but I would also say it's the customer experience that has set them apart, far apart from their competition. They took an everyday experience and even an everyday food and differentiated themselves with the customer experience. It's not all about the product; their secret ingredient is in the experience.
How can you improve on your customer experience? Where's your opportunity for growth? And next time you're ordering pizza put down the phone and log on to www.dominos.com and give it a try.

Posted by Kristen Garvey. Kristen is CMB's Director of Communications, a mother of two, and loves a veggie pizza and a cold Sam Adams Light.