With Labor Day weekend becoming a distant memory I am still left wondering "Where did the summer go?" Most years I'm waiting for the school bus singing along with the Staples commercial "It's the Most Wonderful Time of the Year…", but this year I could have used a few more weeks. I tried to ignore all the back- to-school ads that started right after the 4th of July. I walked right by the mums and pumpkins at the farm stand, but now it's a reality, the fresh corn on the cob has been turned into scarecrows (you know, the ones with the dried husks) and watermelon has been replaced with apples.
Seems I was not alone in my denial of summer ending, in August NPD's research showed although consumers plan to spend more, they were in no rush for back to school shopping. As of late July only 3% had started their shopping, compared to 6% at that same time last year.
However when it came to the tax free holiday many more consumers jumped into action. A recent CMB Consumer Pulse study asked over 1500 US consumers if their state had a tax free holiday and if they took part. Out of those that responded 41% said their state offered a tax free shopping holiday and 54% took advantage of the savings.
Among those participating most (43%) say they saved up to $20, another 26% saved between $20 and $50, 16% between $50 and $100 and 15% said the saved over $100. As we have seen in past market research promotions and discounts move customers to purchase. Most people (81%) used the tax free holiday to buy clothes and put a dent in their back to school shopping. Nothing like a good discount to move consumers from the beach to the store. After all, discounts and coupons are the #1 reason consumers follow brands on Twitter and "like" a brand on Facebook.
Are discounts and promotions part of your marketing strategy or are you afraid that will undermine the value of your brand?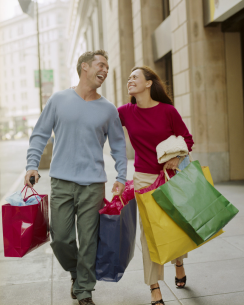 Learn more at our upcoming webinar:
Engaging Consumers and Growing Market Share in the "New Normal"
Tuesday October 5th 1 PM ET
Join CMB's Jon Giegengack and Steven P. Dennis of Sageberry Consulting (formerly of Neiman Marcus) will use recent research data and emerging consumer trends to provide marketers with a roadmap to reaching the consumer of tomorrow and what brands need to do to engage their customer and prospects.
Posted by Kristen Garvey. Kristen is CMB's Director of Communications, a mother of two, and is a regular contributor to the CMB blog.