I am a bit shell shocked over the fact that that Toys R Us has already released its top 2010 Hot Toys list. Could it be that time of year already? At this point I don't even know what my kids are going to be for Halloween never mind what's on their Christmas list!
Of the 59 toys on the list, over half are priced at under $50 and 18 of the toys fall into the under $20 category. Clearly retailers and toy manufacturers know times are still tight and holiday budgets just are not what they used to be. So I'm sure it's not by accident many of these toys are at a lower price point.
Our last CMB Consumer Pulse showed spending habits are very much still in flux and many people are still forming new ones. Although when it came to spending on children's activities, consumers were reluctant to cut back. While retailers are making moves to woo frugal customers, the trend of spending on children continues with holiday shopping budgets.
It will be interesting to see what retailers will do to engage and entice consumers to start early and shop throughout the holiday season. The season was already kicked off with "Christmas in July" retail promotions from the likes of Toys R Us, Old Navy, Kmart, Sears and even Target joined in this year.
From Black Friday to One Day Sales consumers will be looking to save. Last year we found that 38% of consumers planned to shop on Black Friday, 81% of those people their top reason was to take advantage of the sales prices.
Are you wondering how to reach consumers in the "new normal"?
Check out our upcoming webinar:
Engaging Consumers and Growing Market Share in the "New Normal"
Tuesday October 5th 1 PM ET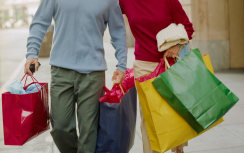 Join CMB's Jon Giegengack and Steven P. Dennis of Sageberry Consulting (formerly of Neiman Marcus) will use recent research data and emerging consumer trends to provide marketers with a roadmap to reaching the consumer of tomorrow and what brands need to do to engage their customer and prospects.
Posted by Kristen Garvey. Kristen is CMB's Director of Communications, a mother of two, and her favorite Christmas story for kids (and adults for that matter) is Auntie Clause. A Must read for all.