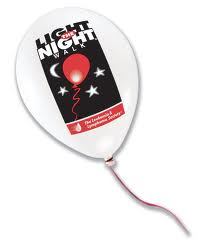 There's no better way to build camaraderie and company morale than uniting together for a cause, especially when that cause hits close to home. This month the CMB team will participate in The Leukemia & Lymphoma Society's Light the Night walk in Boston on October 14th. This is the 3rd year CMB will be participating and this year by far will be the sweetest!
Last year the team walked with heavy hearts as one of our employees, Catherine was being admitted to the hospital that day to fight her second battle (sometimes life just isn't fair) against Hodgkin's Lymphoma. This year we will all be walking with a spring in our step as Catherine is in remission and will walk with our team.
Community outreach is a core part of our company culture. It's events like these that remind all of us that it's the people that make our companies special, it brings us all back to the realization that as individuals we can make a drop in the bucket, but as a team we can make a difference. There are times when it becomes more important to shut down the laptops, put away the spreadsheets, turn off our phones and come together. To me there's no better way to appreciate what I have or those I work with.
Shameless Plug: So far our team has raised just over $6,000 and we hope to reach our goal of $9,000 by the day of the walk.(Feel free to donate )
Posted by Kristen Garvey. Kristen is CMB's Director of Communications, a mother of two, and will be walking to celebrate with Catherine and support another friend in the fight of his life.