With the rumor mill once again flying about iPhone and iPad devices being available on the Verizon Wireless (VZW) network in 2011, the first question on everyone's mind… "Is this for real this time?" But as a card-carrying research geek, I also wonder how mobile consumers are going to react. Will this slow down Android's rise to the top?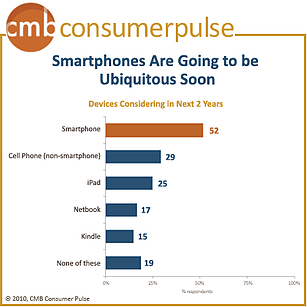 Most likely, there will indeed be a spike in churn to Verizon Wireless. Smartphones are absolutely going mainstream (see Exhibit 1) and specific smartphone availability does play into some consumers' decisions about which carrier to use. More specifically, 23% of US adults are "very excited" about the possibility of the iPhone being available on a carrier other than AT&T Wireless (see Exhibit 2). Excitement levels around this are higher than other hot topics like Android-based phone developments or the iPad.
So what types of customers are more likely to churn over from other wireless carriers or upgrade their current VZW cellular plans if this does indeed become reality? Our own research shows young folks (18-34) and upper-income households ($75K+) are typically much more excited about the iPhone being available through other carriers than other consumers are. Pre-emptive offers from AT&T Wireless to get those iPhone service-plan subscribers to re-commit to new two-year contracts might pay for themselves over the next 24 months.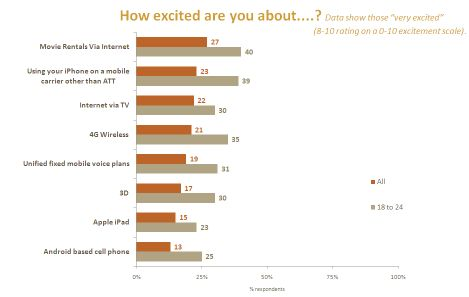 The era of AT&T Wireless having exclusivity over the iPhone has helped fuel the meteoric rise of Android-based smartphones. The end of this iPhone distribution exclusivity might not have as dramatic a market effect as it would have, say, two years ago or even one year ago. Many customers have gotten tired of waiting for that perfect combination of their preferred carrier and their preferred mobile Internet device to come together.
Are you waiting for the iPhone to come to Verizon or are you happy with the device and carrier you have?
Posted by Chris Neal. Chris leads CMB's Tech & Telecom Practice. He enjoys spending time with his two kids and rock climbing.