Part 2 of a 3 part series with Jared Huizenga, Director of Field Services at CMB
Q: What do you think are some of the perceived negatives of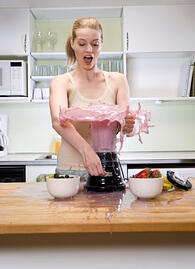 blended samples?
A: One of the negative perceptions about using a blended sample is that the researcher doesn't have as much control over sample demographics. For instance, this may occur when you post a link to a questionnaire on a website and allow anyone to participate. As a researcher, you don't really know who's going to come and take the questionnaire, or where they've come from, and that needs to be accounted for in the communications of the findings.
With a traditional panel, the company recruits the panelists and they may know more accurately where participants are coming from. They can more easily manage who is being recruited for the panel. The reality is that we don't know if sample blending is better or worse in terms of actual data quality when compared to a traditional panel. Until we get some third party, impartial data on the differences or similarities between blended samples and traditional panels, we won't really know how data quality with the blended sample stacks up to traditional panels. It's important for researchers to educate their clients by explaining the pros and cons of the different sample sources that may be used for any given study.
Q: What do you think the future is for sample sources and sample blending?
A: I believe that, within the next three to five years, the vast majority of traditional online research panels will become obsolete. Maybe even sooner. Some specialty panels will still be in play, but with all the advances in social media and specialty websites, people simply won't want to join traditional panels anymore.
If a person is visiting a website where they are really involved and interested in the topic, chances are good that they will click on a survey link and share their opinions. They have a vested interest in the topic. For instance, if a company is conducting a study on those with diabetes, they may be better off recruiting via links on a diabetes forum than an online panel because the people on that site are already engaged and want to give their opinions on a topic they can relate to.
With traditional panels it doesn't really work that way. Sometimes traditional panels have good profiling capabilities for their panelists so they know what their hobbies and interests are, but they aren't catching people "in the moment" when they are looking for information online and may be more willing to participate in a related research study.
Overall, I think traditional panels will vanish and blending is going to become really big. As researchers find ways to better utilize social media as a sample source, I see this becoming a major factor as well. This is already happening to a small degree, but I expect it to explode in the future.
As the Field Services Manager at Chadwick Martin Bailey, Jared oversees and advises on the data collection process, often for very large projects with hard-to-reach audiences. Jared is also on the New England Barbecue Society's Board of Directors and is the pitmaster on a competition barbecue team.
Posted by Stephanie Kimball. Stephanie is our Marketing and Sales Coordinator and loves any and all sports, the beach, traveling, marketing, being challenged, good food, nightlife, and Saturday afternoon naps. You can follow her on twitter @SKBalls.