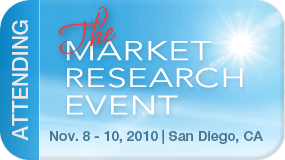 We're spending this week at The Market Research Event in San Diego, and this is generally my favorite conference of the year. Conferences tend to be a mixed bag when it comes to sharing "new ideas" but TMRE at a minimum puts the focus on the business implications of market research studies, which makes the content far more interesting. I was, however, very excited that yesterday's sessions brought a lot of "new" to the table. The three biggest takeaways for me:
1) Facebook is changing the game, and they aren't even the ones doing lots of the changing. The Facebook platform allows companies to interact with their customer and prospects in different ways and smart companies are figuring out the best way to leverage it for insights and engagement. For example, Linda Ashbrook from Taco Bell shared how they have been creating private pages to essentially build temporary research panels that last 2-3 months and focus on a particular part of their target market. This allows them to run what I would call an online bulletin board on steroids that provides daily insight and when they are done with the topic, close it down instead of keeping an MROC alive indefinitely. And as long as the experience is good, Facebook is all for it. Smart, innovative, cost effective. I love it.
2) Media measurement is evolving beyond Nielsen. Jim Multari from Sprout, PBS' network focused on providing great content via multiple platforms for kids ages 2-4, shared how they used a variety of methods to prove their value to advertisers prior to signing on as Nielsen tracked entity. Combing Omniture, set-top box data, TiVo data, their own community, and more allowed them to paint a picture that focused on the extent to which they were engaging kids and parents and sell based on value not volume as they grew. Even now, as a Nielsen tracked company, they rely on this mix of data sources to sell against competitors with broader reach in the market. Again, very smart way prove value beyond the traditional industry currency.
3) Engaging the internal organization is still the key to research success. Our client, Bob Biancamano from Ameriprise Financial, focused his strategic segmentation story on the internal challenges he faced and how to attack them in a way that builds buy in, not dismissal. From embracing past segmentations to making the results obviously valuable to different areas of the organization, Bob showed how they overcame key challenges with some thoughtful planning to provide both a practical and holistic view that enabled Ameriprise to change their focus from their agents to their customers. Not revolutionary, but effective. Even with all of the evolutionary approaches, it is more important than ever to understand and engage the users of market research insights.
For more on the topic visit the conference's blog or follow along on twitter with the #tmre hashtag. Ready for day two!
Posted by Josh Mendelsohn. Josh is our VP of Marketing and loves live music, tv, great food, market research, New Orleans, marketing, his family, Boston and sports. You can follow him on Twitter @mendelj2.