As we enter 2011, the confusion and uncertainty around health reform only seems to be mounting. Amidst this uncertainty, consumers are looking for a reliable and trusted source of information, and they have the expectation that insurers will fill that role. Insurance carriers have the opportunity to become a trusted partner by providing the information consumers are so desperately seeking.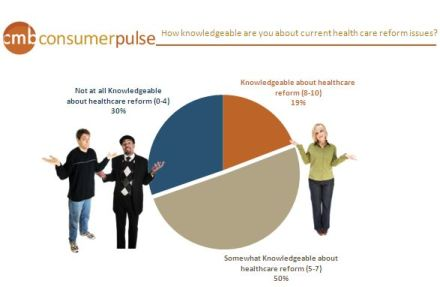 CMB conducted consumer research in mid 2010 which shows there is a clear gap between the level of knowledge consumers have around reform, and how they think reform will personally impact them. The result is that many consumers feel helpless. As one consumer said,

"While I have tried to keep up with the legislation and have read articles and watched news programs on the topic, I'm not sure I know all the details. For that matter, many of the ''experts'' don't seem to know everything either!" - Male, 50-54
Insurance carriers have an opportunity to become more than just another information source— they can become a trusted partner. In fact 61% of consumers expect health insurance companies to inform them about healthcare reform.
Join us for a webinar to learn more about the expectations consumers have towards reform. For Insurance carriers with foresight, health reform represents a rare, one time chance to grab market share and position their organizations for future growth.

Webinar: Challenges and Opportunities for Insurance Carriers in the Face of Health Reform
January 13, 2011 at Noon ET
Join Amy Modini of Chadwick Martin Bailey and J. Mark Carr of South Street Strategy Group as they look at how Americans are feeling about health reform and share consumer perceptions about the role of insurance carriers going forward.