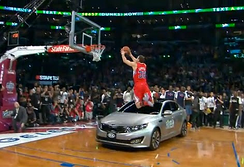 A few weekends ago I kicked back with a few friends to watch the 2011 Sprite All-Star Slam-Dunk Competition. As a weekend warrior basketball player myself, I love to see what these guys can pull off. I was especially excited to watch Blake Griffin's dunk over a Kia Optima. How cool is that to be able to dunk over a car?
As the crowd erupted after Griffin caught the alley-oop and threw down the dunk, I immediately took to Twitter to see what everyone else thought. I was surprised that there were some people who weren't impressed, as if jumping over a car was some easy task. Yet, as I scrolled through my timeline I was more surprised about the content of the tweets. Not only were people critiquing the dunk, they were also mentioning Kia and Optima specifically.
Now when I say people were tweeting about it I'm not talking about my college buddies with 20 or 30 followers either. I'm talking about celebrities with hundreds of thousands of people reading their 140 character thoughts: "Wow! Did you see that dunk? How can Blake lose with the #OptimaJam?!" tweeted Khloe Kardashian; In a much more organic, natural way the content of the tweets turned to, "I wonder how many Kias they gonna sell after the dunk contest," mused Mo Williams. Even though Kia is the official car sponsor of the NBA, this product placement/sponsorship had a much more organic, natural feel. It was all about the dunk and Kia was along for the ride.
Even more impressively, YouTube views of the dunk exceeded one million in the course of two days. Besides seeing one of the games most talked about rookies show off in a pretty serious way, Blake Griffin's Kia-spanning dunk has had an impressive second life on Twitter and YouTube. It was like word of mouth on steroids (I could make all sorts of jokes here, but I'll stick to the point). The online chatter continued throughout the week, with Darren Rovell tweeting "more car buyers consider Kia thanks to @blakegriffin dunk." Later that Wednesday Rovell supplied a link which outlined Kia's plan for this dunk and how they benefited from the exposure. The reaction to the dunk suggests that social media can really increase event sponsorship ROI. CNBC reported that traffic on Edmunds.com for Kia jumped 27% over a "typical" Sunday. And for the Optima specifically, consideration traffic on Edmunds.com shot up 64%, compared to 3% for all other brands.
As we've discussed in earlier blog posts, event sponsorship ROI is notoriously difficult to quantify. The goals of event sponsorship—which hover normally around increasing relevancy, generating affinity with target audiences, landing one's brand on people's radars—ultimately boil down to how much or how little an event's audience has internalized brand placement. Before the age of social media, companies could only reasonably rely on TV ratings, audience size, and press buzz to measure event sponsorship impact. But when the target audience isn't necessarily restricted to people who actually saw the event live, and when social media sites like YouTube allow individual feats within an event to basically live on in perpetuity, ordinary conceptions of generating brand affinity and increasing relevancy via event sponsorship seem supplementary at best. What Kia's experience suggests is that companies can get more bang for their event-sponsorship-buck because of social media and its ability to channel word of mouth in both a traditional sense of one-to-one or this case of one-to-millions.
This leads me to wonder: would the Blake Griffin promo have been interpreted as an exercise in shameless grandstanding if it had been Kobe jamming over a Lexus or Shaq over a Mercedes-Benz? It's hard to say, but there is something organic about a super-talented, but ultimately inexperienced rookie dunking over a car brand that's by all accounts a rookie in the field as well. Kia, arguably the least known and mature of the major car producers, was uniquely positioned to benefit from this promo in terms of generating new awareness. Any affinity that Kia was looking to establish between a great up and coming rookie player and their new Optima seems to have been at least partially validated by its popularity online. The feat was probably most successful because it didn't come off as just another blatant marketing ploy, though it clearly was.
So what do you think? Was the Blake Griffin dunk unique in its impact or should Kia continue to let their sponsorships' main actors do most of the attention-grabbing? What should Kia's next move be?
Posted by Sean Kearney. Sean is an Associate Researcher at CMB and weekend warrior basketball player who thinks no matter what, the fact that Blake Griffin made it over the hood (as opposed to the roof) is pretty cool. Along with a pickup game of bball Sean also enjoys movies, sports, and food.