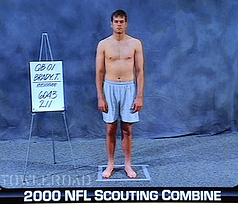 Due to the NFL labor dispute, the NFLPA may request that likely top NFL draft picks refuse their invitations to attend this April's NFL Draft in NYC, as a show of solidarity with their union brothers-to-be. I've got a problem with how both sides have handled these negotiations, but this isn't a post about labor relations. Rather, I want to comment about one of the first rules of marketing – "Know thy Audience" - and how the NFL Network (NFLN) and/or ESPN can turn this potential challenge to their benefit.
First a disclaimer. All that I am about to say is based on my own die-hard football fan observations and some theories I have about the NFL Draft audience based on anecdotal evidence. I spend a lot of time doing "real" segmentations, but my thoughts about this segment (Draftnicks) isn't based on any hard data. That being said…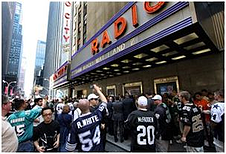 In my opinion, the audience for the NFL Draft is not the mass market that has brought NFL viewership to stratospheric highs in popularity. In general, casual fans who watch their home team on Sunday, but watch something else on Sunday and Monday nights are not flocking to their TV sets. Spouses and significant others of die-hard football fans are not investing hours (never mind an entire weekend) in front of the TV waiting for the commissioner to call a certain name.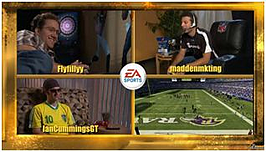 Yes, the move to a Thursday night format has drawn in some casual fans. But the core audience for the NFL Draft is those among us who consider the NFL a 365 day a year past time. "Draftnicks" are born for a variety of reasons. Some of us aspire to be NFL GMs the way young girls aspire to be Disney Princesses. Some of us consider this juxtaposition of college and pro football to be a vital part of our part time jobs, whether those jobs are in the realm of fantasy football or understanding who will beat the spread. And others are the true-blue following that every NFL team has. For 31 teams, the draft provides hope that our team may hoist the Lombardi Trophy next year. For (the hated) Packers fans, it is a step to helping them repeat. The fact that it looks like free agency won't happen until after the draft due to the CBA impasse just makes the draft more exciting.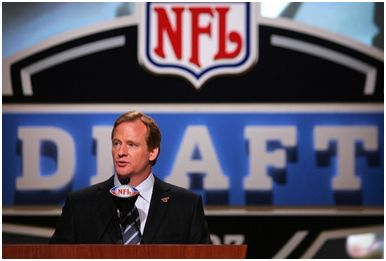 Why does understanding "who" is watching and "why" they care matter? Because knowing that is what should drive content. This is not the Olympics. The audience for the Olympics has been deeply researched and the results have lead to the massive amount of human interest stories relative to the amount of time watching the events. I believe NFL Draftnicks are a very different audience. I think in general, we view drafted players more like pieces on a chessboard than we do as friends and family. It isn't that we don't care about them as people – I think we all hope they are happy and well adjusted. Yes, there have been a few memorable moments in which attending players filled the starring roles (e.g., Brady Quinn's rapid fall to the bottom of the first round and Tommie Harris showing up dressed like Marsellus Wallace from Pulp Fiction stick out). But the NFL Draft can survive without live player attendance, because we're more interested in seeing the film. I want to know what they do well and where they need to improve, and how they fit with their new team. That's why I watch NFLN's "Path to the Draft" religiously and why I read free and subscription draft content online religiously year round. This becomes even more fun once we know when they were drafted, and by whom.
Okay… enough rambling context. Here are my thoughts for the NFLN and ESPN, free of charge.
Feature the Fans: Fly one semi-articulate, well-educated (draft and NFL team wise) fan from all 32 teams into NYC to provide live commentary after each of their team's picks. "Unscripted Television" is hugely popular, and I think NFL fans in general would really warm to seeing other fans share their points of view. I've always thought "The War Room" would make for great reality TV (and for me would be even more exciting than a show of the same name featuring a sitting US President and a red button). NFL fans have and will continue to suffer during the labor dispute. If it helps, I'd like to volunteer myself to represent the Chicago Bears. I'd even pay my own way. That's actually an awesome idea.
A Creative Co-Promotion: Invite an EA SPORTS developer or two to share their early thoughts on how they will "build" each of the top picks. I'd love to hear about the development process for creating the 210+ lb Patrick Peterson with his 4.34 speed and elite quickness. Julio Jones is a bit of a freak too. Beyond their physical performance—how do developers account for non-physical factors that affect performance in real-life, like maturity or performance under pressure? Will we be able to tell if Cam Newton's digital teammates can't stand him? Millions of NFL fans play Madden, and it's possible that a promotion like this would drive incremental interest in Madden while it simultaneously drives viewership of the draft.
More from Experts: For me, I've always wanted to see more of the GMs and coaches, and less from the players. I realize that both coaches and GMs are very busy on draft weekend. But perhaps an invite to an in-the-know assistant would suffice. I really would like to know why the team made the pick they did, and how someone knowledgeable sees the player fitting into the team's scheme. I also love the really smart football minds who analyze this stuff even more thoroughly than Mike Mayock. I loved this article: Why Teams Should Worry About Julio Jones. You need an ESPN Insider subscription to access it, but it gets very math geeky about why Julio's production isn't that of a high 1st rounder. I'd love to see Football Outsiders analysis on Day 3 around who they feel may have done the best job at addressing porous run defenses or QB protection issues.
As you can see, I truly think the incoming rookies need the NFL Draft event more than the draft needs them. As I see it, players benefit more from shaking commissioner Goodell's hand than the other way around. The Draft provides a kick-start for players to win endorsement deals and start building their personal brands. For me personally, I'm hoping that someone at the networks sees this, and we get an even more interesting draft format this year.
Posted by Brant Cruz. Brant is a VP and segmentation guru at CMB. He is eagerly awaiting a call from the Chicago Bears and is keeping his fingers crossed for an exciting 2011 NFL Draft.