CMB Announces Winning!FY Market Research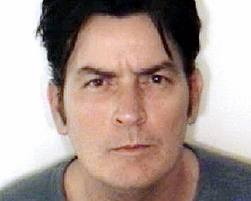 After 27 years in the product development pipeline, Chadwick Martin Bailey is proud to announce a truly differentiated offering in the consultative market research space. Inspired by Charlie Sheen's ability to break through the clutter of moderately-talented Hollywood actors, we've made a bold decision to infuse some Charlie Sheen of our own in all of our processes and deliverables. Here is a small sampling of the features of this new product.
Exploratory: To reduce costs to our clients, we will hereby forgo all "old school" market research qualitative activities such as social media monitoring, live and online focus groups, IDIs through 1:1's and Dyads, Eye Tracking and QualVu Mobile data collection. Instead, we're replacing all of these with ethnographic work focusing on Charlie and his inner circle and somewhat unconventional family. Given the amount of content his mouth creates per minute, we can no longer justify observing multiple people in multiple settings.
Questionnaire Design: Observing Charlie has made it clear that traditional semantic differential and Likert scales don't work anymore. The formality of the language we use is grossly outdated, and people just don't think linearly anymore (if they ever did). We plan to replace our existing performance measurement scales with the following: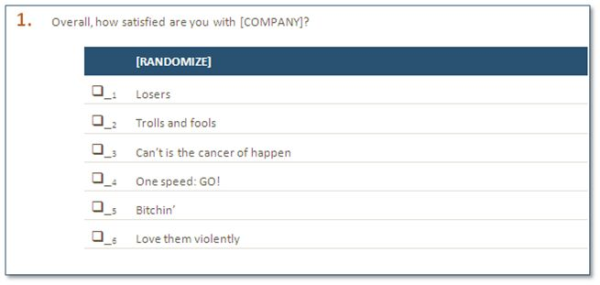 Here we see the randomization as a major improvement and consistent with the way Charlie is teaching us to think. While we don't like the term "satisfied" in this new context, we think it is important to keep in year one for trending purposes.
Data Collection: We are developing our own proprietary panel in order to supply what we see as the next decade's most in-demand respondent population. Influentials/Mavens? No. Technology early adopters? Nope. The very affluent? Not even close. This specialty panel will be populated entirely by people who have tiger blood flowing through their veins.
Reporting: The first step in spicing up our deliverables will be to completely discard tired old names we occasionally use in segmentation reports. As a start, we'll be replacing the term "Enthusiasts" with Rock Stars, and the terms "Passionates" with Goddesses.
As you can see, this new format will allow for truly differentiated insights and wonderful storytelling. I have poetry in my fingertips, and look forward to this new Winning!FY format providing CMB with the canvas on which to display it.
FYFooled You. Or so we hope. In celebration of April Fool's Day, our self-proclaimed funniest guy in market research could not resist the urge to participate in NGMR's April Fool's product launch blog. To be clear, the preceding blog post has not been sanctioned by anyone at CMB with either half a brain or the good sense to limit the use of language that may make some of you blush. Rather, this blog post is the sole fictitious invention of CMB's own Brant Cruz. Grain of salt disclaimer: this is the man who has also chosen to dub himself with the title of Segmentation Prophet, among others.

Brant also wants to wish Chadwick Martin Bailey a Happy 27th Birthday! It was no joke when this company launched on April 1st 1984- Congratulations Anne and John!

Posted by Brant Cruz. Brant is a VP and segmentation guru at CMB. He is a very funny guy and keeps all of us laughing, smiling and keeping things in perspective. Check out his NFL draft post from yesterday, who knows maybe Brant will get the opportunity to add some excitement to the 2011 NFL draft.