After several years of slashed marketing budgets and increasing company forays into social media outreach, many executives are increasingly realizing three things:
Successful social media efforts take a lot of time; and time is a very precious, finite resource.
Measuring the return on social media efforts requires thoughtful planning and creative metrics.
Social media strategies and tactics can vary dramatically based on which market segments you are targeting
I just attended and spoke at IIR's Social Media & Community 2.0 conference here in Boston last week. Many excellent speakers from wildly different industries stressed that time and sustained commitment are crucial to success. Many conference attendees, by contrast, were hoping for a silver bullet that would bring them scalable social media success without stretching staff even thinner than they already are in this jobless recovery.
No such luck.
And so the collective conversation turned to planning, focus and accountability.
(1) Planning: Nearly every battle-hardened social media practitioner on the pulpit stressed that you must understand your target audience(s) very well before diving into any social media efforts. Who are they? Which social media (if any) are they actually using, for what purpose(s), and in which contexts? The answers to this can vary dramatically by market segment and product category, and are still changing pretty rapidly as social media usage evolves.
a.) For example, Amir Kishon of Wellness Layers mentionedhow many healthcare organizations first tried to establish online communities via Facebook, which is architected to celebrate and amplify your personal life. Those suffering from specific conditions, by contrast, need a protected, confidential community where their content is strictly private.
b.) Other speakers, such as Megan Smith of Ovation TV, stressed the need to find out whether and where your target audience is already having relevant conversations online. If they are join them there rather than creating a brand new venue and hoping they will switch over. Swim with the tide.
(2) Focus: Proper planning will lead to focus, which is important because social media efforts are not free, even if they're not gobbling up your marketing budget. The opportunity cost of different internal staff members' time must be planned and accounted for.
a.) Decide which specific target audience you are going to focus on with your social media strategy.
b.) Plan out the relevant content strategy to engage them with (sustained content; not just one-off publicity stunts). Thomas Fishman of MTV, for instance, told the tale of a wildly successful contest they ran via Twitter for Justin Bieber to dedicate a song to one lucky Twitter follower. MTV's Twitter followers sky-rocketed, but then quickly and dramatically those followers churned away after the contest ran its course.
c.) Decide on the tone of your company's voice on social media, and stick to this tone religiously. As Holly Zoba of Signature Worldwide explained, this will help guide executives and staff through the dangerous social media waters when, for instance, hotel guests that you had to call the police on/have hauled off to jail then proceed to write scathing complaints about your company on TripAdvisor.
d.) Decide on a select few social media channels to do well. This may be engaging in forums where customers are already talking about you. It might be going all-in with your Facebook presence. It might be LinkedIn. The number of social media platforms is expanding exponentially and can be overwhelming for companies attempting to do social media marketing well. If you know what your target audience is actually using (and how they're using it); you can quickly prioritize so that you do a few things well rather than many thing poorly.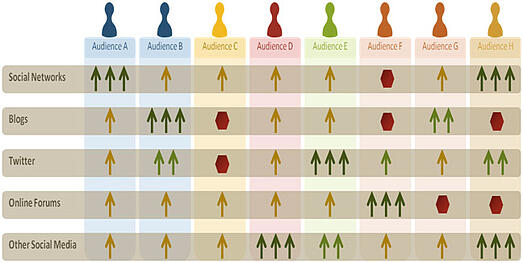 (3) Accountability: This is where connecting the dots can get tricky, especially since in many industries social media efforts often have more impact at driving preference, perception and advocacy than they do actual sales transactions. Marketing departments are being pushed to show clearer Return on Marketing Investment (ROMI). When it comes to social media marketing (SMM) specifically, we've moved past the initial hype and "testing-the-waters"; CFOs are demanding a clear link between social media marketing investment and financial results.1
a.) This is where some companies are getting creative. For instance, a hotel property set a goal of being the top-rated hotel in its category for a specific city on TripAdvisor.com. They knew from past transactional database analytics that this alone drove a certain percentage increase in profitability for any property.
As a card-carrying research/analysis/consulting nerd, I am thankful to be doing what I'm doing as all of this plays out. After the 2012 conference wraps up, I look forward to seeing how best practices within social media planning, focus and accountability have evolved, and hope to play even a small part in this evolution.

1 And don't worry: I'm not going to be that guy who tries to popularize "ROSMMI" as the latest buzz acronym.

In May CMB's Jeff McKenna will be speaking at theTechnology Driven Market Research Event in Chicago. Jeff will be discussing the latest tools and technology (available at little or no cost) that add tremendous value by turning data into a visual story.

If you're interested in attending any of these conferences let us know, we may be able to get you a discounted price.

Posted by Chris Neal. Chris leads CMB's Tech Practice. He enjoys spending time with his two kids and rock climbing.