Someone told me that life is like a flowing river. The water is constantly changing, yet downstream, it is still the same old river that you knew upstream. I thought of this recently as our company took some time out of our busy day to stop, reflect and celebrate Chadwick Martin Bailey's 27-year history. Although we have seen a lot of changes over the last 27 years, the foundation of our culture remains the same. Part of the reason why is that we haven't forgotten to stop, reflect and take the time to thank those who have formed both our culture and our company over the years.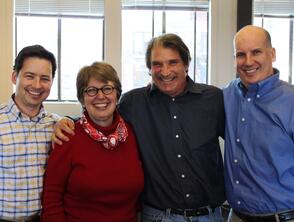 It has become a tradition at our company birthday celebration to thank the employees who have been with us for 5/10/20+ years and built this company and cultivated this culture to what it is today. Our culture emphasizes teamwork, ideation, flexibility, personal growth, informality, and individual leadership. We are definitely a "speak-up" culture. We work hard, but also take the time to have some fun together.
This year at our 27th birthday celebration, we honored three of our employees, Rich Schreuer (20 years with us), Jim Garrity (10 years), and Jeff McKenna (10 years) for not only their years of dedication to CMB and our clients, but for the leadership they continue to provide in their own very different and individual ways.
As I looked around the room, these three were joined by others who have spent many years molding this company. And, I also saw many other newer members of our 60-person staff who will contribute, impact, and become leaders at CMB. I couldn't be more proud or excited for the future of Chadwick Martin Bailey.
The science of market research has progressed significantly over the last 27 years. But science needs art. At Chadwick Martin Bailey, the way we conduct our market research is informed by the art that is so integral to our culture. Teamwork, ideation, flexibility, personal growth, and individual leadership aren't just buzzwords here. It's who we are.
John Martin and I want to say "thank you" to not only our great staff, but our wonderful clients.
Posted by Anne Bailey Berman. Anne is the President of Chadwick Martin Bailey and enjoys volunteering in the community, traveling with her family and spending time in her vegetable garden.