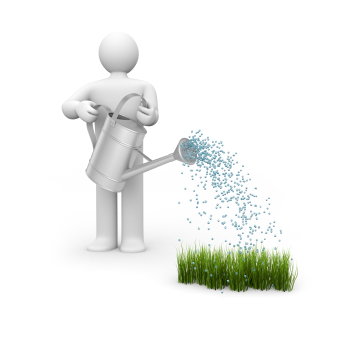 If you listen closely, you can almost hear the collective sigh of relief among managers for having weathered the biggest economic downturn since the Great Depression. Over the last couple of years, managers were primarily focused on being "efficient" and "effective" as they dealt with the rocky economic climate.
Managers will give a variety of reasons for successfully weathering the storm, but one they almost always neglect to mention is the extent to which their employees are engaged. Now, after finally getting through harsh economic times, those same managers are starting to feel the effect of that oversight. They hear that employees are eagerly beginning to look for other jobs. The company leaned on them hard and they are ready to move on. To get through tough times, companies have worked tirelessly to engage prospects and customers alike. Does it make sense that they have not similarly worked to engage their employees?
Engaged employees are not merely "happy" employees. Engaged employees are those that understand the values of the company and are empowered to impart those values to customers and prospects. The engaged employee knows his or her role and understands the roadmap that leads to corporate success. It is more than money, vacation time, or workplace camaraderie. Employee engagement is about commitment and achievement. To be successful, the executive team must facilitate engagement through their actions, through the planning process, and through open and honest dialogue with employees at each level of the organization.
How can you know that your employees are engaged? Companies may try to make that discernment, but their processes are, frequently, neither systematic nor substantive.
Companies may conduct employee feedback studies. Unfortunately, many times, these studies reflect employees' relative state of "satisfaction" with their work environment, their pay, and their fellow employees rather than cogent insights about the organization that can be used in real, operational decision-making.
Employees will reveal if asked in a meaningful way! If employees are one of a company's most important assets, then the same in-depth techniques that are used to understand customers and prospects should be used in engagement assessments. While it's essential to gain insight into an employee's work environment, it is also critical, for example, to understand how his or her team works with both internal and external clients. Why? We know that to the extent that employees are "engaged" with their employer, the more committed and productive they are. Engaged employees are quite efficient at telling management:
Their understanding of the company's brand propositions and how they individually and in their business unit can most contribute to that brand success


Reasons for any gaps that exist between what the company promises (brand propositions) and what it actually delivers


Solutions for reducing the gaps
Over the last two years, management has focused on weathering the economic storm. Now, it is time to go back to focusing on one of the largest investments and most important assets, employees. It is only after taking this step that companies can move to the next step: increased efficiency and effectiveness.
Posted by Anne Bailey Berman. Anne is the President of Chadwick Martin Bailey and enjoys volunteering in the community, traveling with her family and spending time in her vegetable garden.