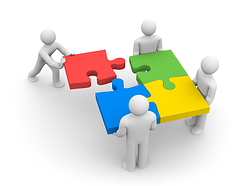 As someone in market research, it might surprise you to know that I really don't like the phrase "actionable insights." I see it everywhere. Market researchers promise it; clients strongly desire it; everyone talks about it, but what does it really mean? What's the definition? The real issue is making sure the research translates into simple, business decision-focused deliverables so it can be both acted upon and evangelized throughout the organization.
Here are three ways to get there.
Start with the end in mind- The keys to any successful research project are focus and planning around how the research will be used and what decisions need to made. This is why our business decision worksheet is at the heart of all of our projects here at CMB. Market research should be linked to business decisions during preliminary planning and key stakeholders need to be involved. Involving stakeholders throughout the research lifecycle gives them an opportunity to voice their own questions about the research before the study goes to field and makes them more likely to evangelize the results when it is time to act.


Communicating is key- Making sure your insights tell a visually compelling story is so important. Even when timelines are tight and deadlines are looming, the results need to be easy to understand and visually appealing, as both are key to making sure they will be effectively communicated throughout the organization. Too often, busy corporate decision-makers don't have the time to dive into the market research. They want answers. It's our job as researchers to provide perspective and translate the research into simple, business decision-focused deliverables that look great and are easy to understand.


Continued collaboration and evangelization- In the spirit of teamwork and partnership, the process should continue beyond the delivery of reports and research. Our own Brant Cruz calls this the "evangelization" stage. And if you have accomplished #1 and #2 evangelizing the research becomes much easier and more organic.
So it's not "actionable insights" that market researchers and clients are looking for. It's answers. Answers and action come from a collaborative process that collects and focuses relevant insights around business decisions that need to be made. It is then and only then that research becomes actionable.
Posted by Kristen Garvey. Kristen is CMB's VP of Marketing, a mom of two and she's really looking forward to the sun coming back to Boston.